Emma Mitchell clinches victory in 10k Seeley Cup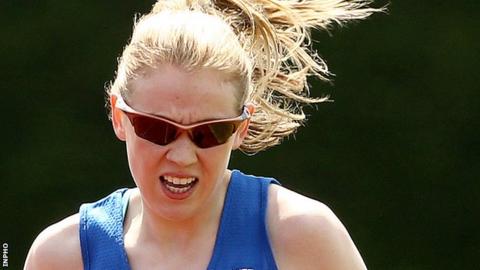 Fresh from a training stint with snooker star Ronnie O'Sullivan, Emma Mitchell earned a superb women's victory in Saturday's Joe Seeley Cup.
The 23-year-old Banbridge athlete's winning time of 33:57 was the fastest in the 10k race for several years.
She finished 33 seconds ahead of Irish Marathon Champion Laura Graham.
Derry Track Club's JP Williamson (31:05) won a North West dominated men's race as he came in five seconds ahead of Foyle Valley's Scott Rankin.
The Seeley event at Ormeau Park doubled up as the Northern Ireland 10k Road Race Championship.
Five-time world snooker champion O'Sullivan joined Mitchell and other members of coach Eamonn Christie's training group in Belfast last week.
Keen runner O'Sullivan contacted Christie before last week's Northern Ireland Snooker Open asking if he would be able to organise training companions for him during the tournament.
The stardust appear to rub off on Queen's University student Mitchell in Saturday's race as she held off a strong challenge from Graham with international duathlete Judith Lonnen (City of Lisburn) finishing third in 36:40.
"I'm really, really happy with the time and happy with the win obviously," said Mitchell, 23.
"Eamonn told me to go off hard and just engage the race."
Only seven seconds separated the first three in the men's event with winner Williamson's club-mate Conan McCaughey completing the podium positions.