Liz McColgan criticises British Athletics' funding after daughter Eilish misses out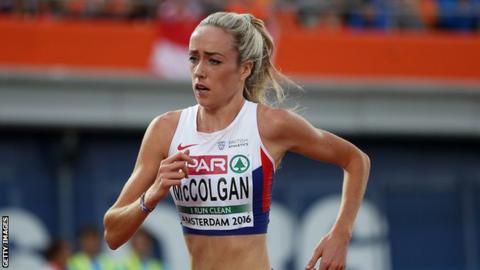 Scotland's former world 10,000m champion Liz McColgan has criticised British Athletics for how it funds and trains athletes.
McColgan's daughter Eilish, a finalist at the Rio Olympics, will not receive National Lottery funding for next year, but claims she has met the criteria.
Her mother Liz, writing on Facebook, claimed the process was "disappointing, not right, and not fair".
She has called on athletes who missed out on funding to use it as motivation.
"Use this snub as a way to prove them wrong, keep strong and committed to your training programme that has produced the goods, unlike British Athletics," she wrote.
British Athletics said it did not comment on individual cases and reiterated it supported athletes with the potential to win Olympic medals or those "developing towards Tokyo 2020 and the Olympics in 2024".
Liz McColgan said the funding lists were "never without controversy".
She added: "This year they have excelled themselves to the point now I think endurance running should be a separate funding group with separate criteria.
"The present criteria is way too sprint and relay biased, we have athletes funded who could not make it through the rounds of an Olympics never mind the final, yet on funding for relays.
"In endurance in Rio we had the strongest results for many many years, athletes in finals yet not considered to be good enough for lottery funding.
"It's not right and it's not fair."
Eilish McColgan missed the 2015 season after breaking her ankle, but the 25-year-old made the Great Britain team for Rio, despite having her funding cut for 2015-16.
She finished 13th in the 5,000m in Rio, having switched from the 3,000m steeplechase, in which she competed at the London Olympics in 2012.
"British Athletics do not comment individually on athletes who have exited or not been selected for the World Class Performance Programme (WCPP)," said British Athletics in a statement.
"It's only fair that the reasons why someone has not been added to, or exited from, the WCPP are discussed further with them individually, rather than publicly.
"We have stated in the release the aims of the programme and if an athlete hasn't been selected for the programme either we feel they don't fit that profile right now, or there are logistical/operational reasons why they can't be formally supported at this time."
Scottish Athletics said it "remains firmly committed to offering as much support as possible and appropriate to all athletes and coaches at the required level" ahead of the Commonwealth Games at Gold Coast in 2018.