Andrew Butchart leads team to fifth Scottish National XC Relays win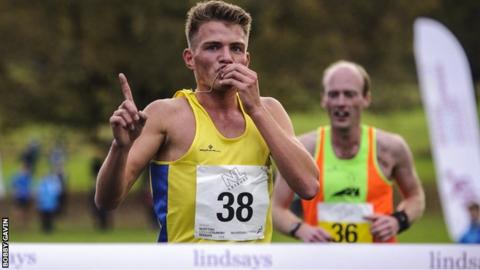 Olympian Andrew Butchart led defending champions Central AC to a fifth successive win in the men's senior race at the Scottish National XC Relays.
Michael Wright, Jamie Crowe and Alastair Hay also ran for Central AC.
Edinburgh Uni's Steph Pennycook, Catriona Graves, Louise Mercer and Mhairi Maclennan took the women's senior title in Cumbernauld.
"I know it means a lot to the coaches and the club to keep being the dominant force at cross-country," said Butchart.
"I definitely had the 'glory leg' this time with the fourth leg and happily the guys before me had it set up so well for me that I just had to get round safely.
"Michael Wright really had an excellent run in the second leg which made a big impact on the race and Jamie Crowe and Alastair Hay did well on one and three, as well.
"I love racing here at Cumbernauld and I love cross-country. The things we did last year worked perfectly for me ahead of Rio so it is a case of trying to do the same again - and then see if I can go even quicker on the track next summer."
Callum Hawkins, of Kilbarchan AAC, posted the fastest 4km leg of the men's senior race in 11:01.
Butchart was sixth in the final of the 5,000m final at the Rio Olympics earlier this year while Great Britain team-mate Hawkins was ninth in the marathon in Brazil.
A total of 63 clubs competed at the Scottish National XC Relays with Edinburgh AC winning both the young females and young males titles and Cambuslang Harriers winning two events, including a sixth straight men's masters event.
Debutants PH-Racing won the women's masters race and Springburn Harriers took the women's V50 golds.