Rio 2016: Sergiu Ciobanu's appeal against Irish marathon omission rejected by CAS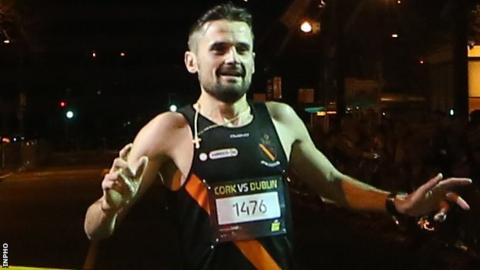 Sergiu Ciobanu's final appeal against his omission from Ireland's Olympic men's marathon team has been rejected by the Court of Arbitration for Sport.
The international arbitration body for sport in Lausanne was the former Moldovan runner's final appeal option.
CAS's decision means that the Northern Ireland duo Kevin Seaward and Paul Pollock will compete in Rio alongside Raheny's Mick Clohisey.
Ciobanu, 32, had a faster qualifying time than Holywood runner Pollock.
Cardiff run helped seal Pollock selection
However, the Irish selectors opted to choose Pollock given his impressive run at this year's World Half Marathon Championship in Cardiff.
The Holywood runner Pollock finished 14th in the Cardiff race as he came home in front of a large number of world class African athletes with bronze medallist Mo Farah the only European ahead of him.
Following his Olympic selection, Pollock was also the first Irish finisher in the half marathon at the European Championships in Amsterdam.
Pollock's impressive showing at the 2013 World Championships in Moscow, when he placed 21st, is also believed to have been a factor in the thinking of the five-person Athletics Ireland selection committee.
Dublin Marathon race director Jim Aughney was joined by Eamon Harvey, Patsy McGonagle, Brid Golden and Paul McNamara on a panel which was chaired by Athletics Ireland's high performance director Kevin Ankrom.
Pollock, 29, set a personal best of 2:15.38 set in the Berlin Marathon last September but that was bettered by Ciobanu in the same race who clocked 2:15.14.
Ireland's two other qualifiers also finished ahead of Pollock in the Berlin race with Belfast man Seaward clocking 2:14:52 and Clohisey posting 2:15.35.
Clohisey then edged ahead of Ciobanu in the Irish qualification picture when he produced a time of 2:15.11 in Seville in February.
Reacting to the news that his appeal to CAS had been rejected, Ciobanu urged Athletics Ireland to have greater transparency in future qualification requirements and said that he would aim to continue to represent the country in the hope of qualifying for the 2020 Olympics in Tokyo.
"I am very disappointed not to have the opportunity to represent Ireland at the 2016 Olympics, a country I have called home since 2006," added Ciobanu.
"Having run for Ireland in the past, I was hopeful that my recent performances as per the Athletics Ireland qualification guidelines, together with my track record, would enable me to run for my country.
"That said, I fully respect the decision of CAS and certainly wish each and every member of the Irish marathon team every success at Rio and have no doubt that they will represent Ireland with pride."
Responding to Friday's CAS verdict, Athletics Ireland said that it "fully appreciated the deep disappointment felt by the athletes who had reached the qualifying standards but who were not selected".
The AAI statement added that the CAS judgement had ruled that there was "no failure on behalf of Athletics Ireland to either follow or apply the relevant selection policy properly construed".