Callum Hawkins ninth at European half-marathon
Last updated on .From the section Athletics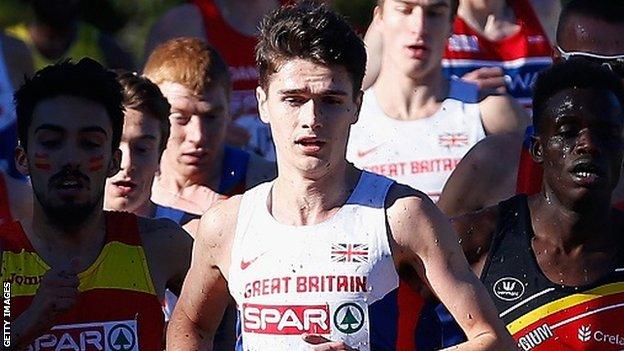 Callum Hawkins finished ninth as Tadesse Abraham won the half-marathon at the European Championships despite taking a wrong turn at the finish.
Hawkins was the only one of Britain's Olympic marathon trio to take part after brother Derek and Tsegai Tewelde pulled out in Amsterdam.
The 24-year-old younger Hawkins brother said: "I was feeling quite strong in the last six kilometres.
"But the middle part, I just wasn't feeling it."
Switzerland's Eritrea-born Tadesse Abraham took gold in one hour, two minutes and three seconds, with Hawkins finishing in 1:03:57.
"It started off a lot more aggressive than I thought," said the Scot.
"Normally, I like to come through, but I thought I'd try something different and try to put myself near a medal, but it didn't pay off."
Matt Bond was 42nd, with fellow Englishmen Lee Merrien and Jonny Hay 52nd and 77th.
Derek Hawkins did not take part because of injury, while Eritrea-born fellow Scot Tewelde pulled out overnight because of illness.
In the women's race, Gemma Steel was the first Briton home in 10th place in 1:12:19.
Compatriot Alyson Dixon was 13th, with fellow English competitors Lily Partridge 51st and Tina Muir 59th, while Charlotte Purdue did not finish.