Rio 2016: Lee Merrien 'disappointed' to miss Olympics after London Marathon time
Last updated on .From the section Athletics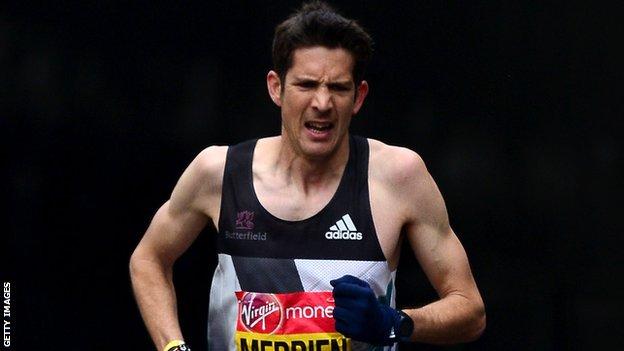 Lee Merrien has admitted his Olympic career is over after failing to run the Rio 2016 qualification time in Sunday's London Marathon.
Merrien, who ran at London 2012, came 19th in a time of 2 hrs 16 mins and 42 secs, but needed 2:14 to qualify.
"I'm disappointed with the time, but to be honest it was irrelevant," the 37-year-old told BBC Guernsey.
"When you're outside that time it's almost immaterial whether it's a couple minutes or a few seconds."
Three British athletes - Tsegai Tewelde and brothers Callum and Derek Hawkins - crossed the line inside the men's qualifying time on Sunday.
Merrien said "you have to take your hat off" to the trio, and confirmed he would not try to qualify for the Tokyo Games in four years time.
"I won't be going for 2020. It only comes every four years but it's a lot of commitment from a family perspective and being away from home so often for training camps and things.
"There'll be other competitions, but as far as the Olympics go, that's me."