Callum Hawkins and Freya Ross seek Olympic prize in London Marathon
Last updated on .From the section Athletics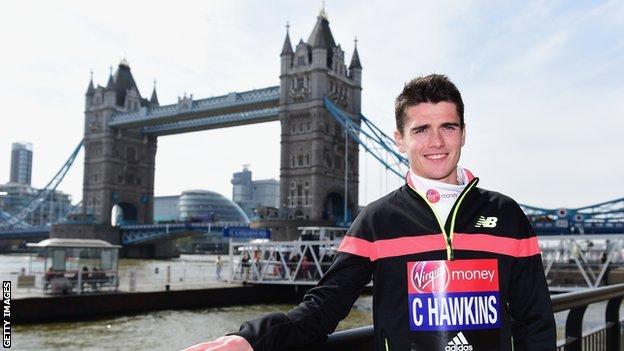 Date:
Sunday, 24 April
Start times:
08:55 BST wheelchair races, 09:15 elite women, 10:00 elite men and mass start
Coverage:
Live on BBC TV, Radio 5 live and the BBC Sport website with extra streams on Red Button, Connected TVs and Sport app.
Full details.
A Million Reasons to Run:
Gabby Logan learns the
incredible stories of runners
from all walks of life - Saturday, 23 April, 12:30-13:00 BST, BBC Red Button & 13:00-13:30 BST, BBC One
Brothers Callum and Derek Hawkins and fellow Scot Freya Ross hope to boost their hopes of Olympics inclusion in Sunday's London Marathon.
Those finishing first and second in both the men's and women's events will win a place in Team GB for the Rio Games in September.
"To have two brothers at Rio would be a huge achievement," said Callum Hawkins.
And Ross commented: "It would really make me feel like I'd got back to the level that I want to compete at again."
Hawkins admitted to be "a little bit nervous" but added: "Nerves are good. Training has been going well, so I am reasonably confident that I can do it.
"Running the qualifying time [2:14:00] takes away a little bit of pressure because I don't need to look at the clock.
"The Olympics is the premier event in our sport, so to make it there would just be incredible.
"I've got as good an opportunity as everyone else. It will be really tough, but hopefully I can get through it and beat everyone else."
'We've always got that brother rivalry'
The 23-year-old revealed training with brother Derek, 26, has benefitted them both.
"It really helps," said the younger Hawkins. "We get to bounce ideas off one another and having a training partner who is also going for the same goal is just amazing to have.
"We've always got that brother rivalry, which is really good. It helps us push ourselves to the next level.
"It definitely doesn't hinder me. The rivalry and the drive to beat each other's even bigger, so we push each other even harder than probably what would happen if it was somebody else.
"If we finish in first and second place, the family celebrations will be pretty big. My Mum and Dad will be pretty happy.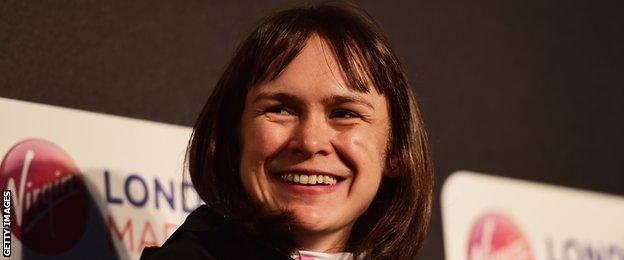 The qualifying for the women's event is 2:31:00 and Ross will be competing in her second London Marathon and her third marathon in the English capital.
"The two that I've run have been the London Marathon in 2012 and the Olympic marathon in 2012," she explained.
"They were both amazing experiences for me with the first one being my debut as well, that was really special.
"And then to run for Team GB in London was just incredible - best experience I've ever had in a race and one of the best days of my life.
"It's always going to be tough to beat that, but it means London's always going to be special to me and hopefully it will be this weekend as well."
The 32-year-old feels the Olympics qualification aspect of Sunday's race "obviously adds that little bit extra" pressure.
"In some ways, that's a nice thing, it brings everybody out the woodwork and it's always going to be a really tough race," she added. "It should be good.
"I feel like I'm in good shape. Training's gone really well the last couple of months, so I'm looking forward to doing the best I can on the day.
"We'll have to see how it goes, but I'm feeling confident.
"It'd be amazing [to go to Rio]. It's been a bit of a difficult few years with injuries, but things are turning around now and hopefully if I was to get one of those places on the team that would just be the icing on the cake."