Edinburgh XCountry: Twell, Muir and Hawkins off to 2016 flyer

By Keir Murray
BBC Scotland at Holyrood Park
Last updated on .From the section Athletics
Scots trio Steph Twell, Laura Muir and Callum Hawkins viewed their eye-catching performances at the Great Edinburgh XCountry as an important part of their Rio Olympic preparations.
Twell and Muir combined with Jake Wightman and Cameron Boyek for Scotland A to win the 4x1K International Relay.
Hawkins, racing for Great Britain, led the men's 8K race before finishing fourth behind American winner Garrett Heath, Mo Farah and USA's Scott Fauble.
"This is what I needed," said Twell.
Speaking to BBC Scotland after clinching the inaugural Stewart International Relay Trophy (named after Scottish running favourites Ian and Lachie Stewart), the 26-year-old said the cold, muddy conditions "get you tougher as an athlete".
"I've put the foundations in place," Twell said of her Olympic ambitions now that she has fully recovered from injury.
"I'm in the last cycle now. Leading into the summer I am in quite a good position with two qualifying times already.
"I want to use that wisdom and knowledge that I've gained over the years for that place in Rio."
Twell reached the finals of the 5000m at the World Championships last year, but earlier in her career won Commonwealth bronze over 1500m.
On racing across one kilometre of mud, she said: "As an athlete competing on the international stage you need range.
"You need to be able to run 800m, 1500m, 3K and 10K and that's what I'm doing. I'm extending my range because I want to be able to finish fast.
"I'm used to sort of warming up into my physiology and having a few kilometres before feeling stronger towards the end, but this pushed my boundaries and that's what I needed."
Muir, who ran the final leg at Holyrood Park after Wightman, Twell and Boyek had held off the spirited challenge of Great Britain & Northern Ireland, Ireland and England, described the event as "great fun".
"I was so proud of the whole team," said the trainee vet, who had returned on Thursday from warm-weather training in South Africa to attend two days of her course, before competing on Saturday.
"They held the baton in first place pretty much all the time. I just had to keep on going with it and bring them home.
"I just knew when they came round in first place I couldn't lose it now, especially on home soil.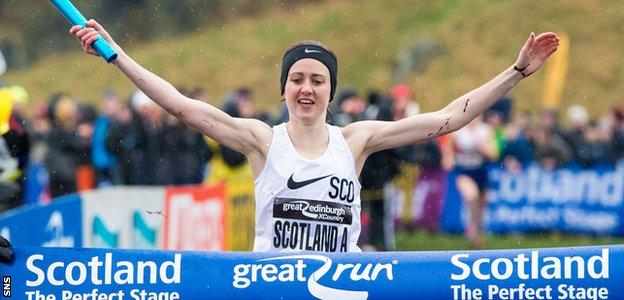 "I couldn't see round the corners in some places. There was great support out there.
"The first race of the year couldn't have gone any better. It's something to build on race by race."
Hawkins is well placed to represent GB in the marathon in Rio. He secured the qualifying time on his marathon debut in Frankfurt last October and now needs a top-two finish in London.
He had the home crowd roaring him round in Edinburgh and was in pole position going into the final lap.
"It shows my training's going the right way," said the 23-year-old Kilbarchan athlete. "It's looking good for London at the end of April.
"In the last lap when I was leading, I was quite shocked - at one point I was getting more shouts than Mo, which was pretty special.
"It's good to be competing against guys like that.
"The pressure is off. When it comes to London I can choose to race it and I don't need to chase the time, or I can front-run it, like I did today."
Despite Heath and Fauble clinching first and third spots, Hawkins and fellow Scot Andrew Butchart, who was seventh, helped GB to the team title, along with Ross Millington (fifth), Dewi Griffiths (sixth) and Nick Swinburn (12th).