Eilidh Child focused on Rio Olympics after "mixed" 2015

By Brian McLauchlin
BBC Scotland
Last updated on .From the section Athletics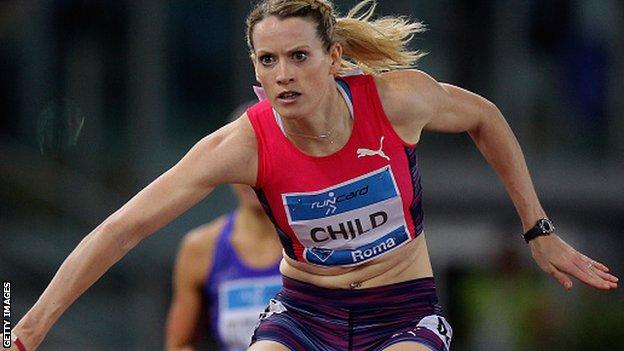 Eilidh Child is aiming to run faster than ever at next year's Olympics after a "mixed" 2015.
The Scottish 400m hurdler came sixth in the World Championships in August, but felt she threw away a medal in Beijing.
Child is now turning her attention to next summer's Rio Olympics and improving on the track.
"I was mainly disappointed this year that I didn't run a personal best, so I'd love to run a PB next year and break my Scottish record," she said.
After a memorable 2014 in which she claimed a silver medal at the Commonwealth Games in Glasgow, followed by gold at the European Championships in Zurich, Child feels that this year has not quite hit the same heights.
"A bit mixed to be honest," she said when asked to describe her performances this year.
"I would have liked to run a bit faster over the hurdles. I finished sixth in the World Championships.
"If you had said to me a couple of years ago I would be sixth in the world, I'd have taken that quite happily, but I think I've developed quite a lot over the years and I was disappointed not to be on that podium at the World Championships this year.

"I got a medal in the 4x400m which kind of made up for it slightly. I think there's still a lot more to come from the hurdles. Hopefully next year I can go out there and run a bit faster."
With the Olympics in Brazil looming on the horizon, Child says every competition between now and the summer will carry an extra edge.
"It's crazy. I can't believe it's going to be four years since London. Olympics year there is always this huge buzz and everybody really raises their game.
"It's exciting to be running well and fighting fit and healthy. Hopefully I can stay injury-free and come out next year and go and do something in Rio."
Athletics in crisis
The world of athletics has been hit by scandal in recent times, with allegations of corruption at the highest levels of the sport's administration and claims of a widespread cover-up of doping among top-level athletes.
Child has had conflicting emotions as she became aware of the revelations.
"It's a bit bittersweet to be honest," she told BBC Scotland.
"It's good that it's all coming out because I think as athletes we've all had our suspicions things that are going on, there's always been kind of underlying things that you've heard.
"So I think the fact that things are coming out into the open can only be a good sign because it's going to get addressed, but obviously it's disheartening.
"As an athlete I work really hard, I train really hard to go out there and run the best that I can and I hope the girls that I run against do the same because it's only fair.
"It is a little bit disheartening but the fact it is all coming out hopefully can only mean it's better in the long run."