Euro Cross Country: O'Flaherty fancies McCormack chances
Last updated on .From the section Athletics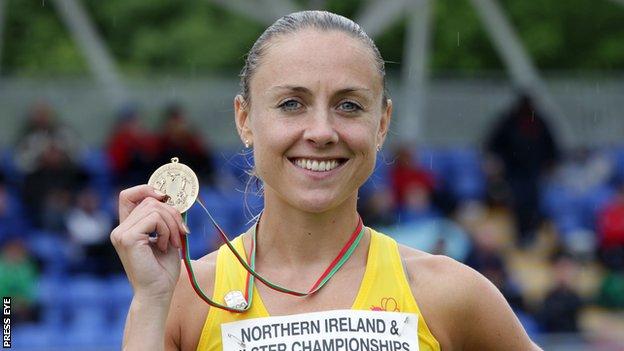 Kerry O'Flaherty believes Fionnuala McCormack will challenge strongly for a third European Cross Country title on Sunday and could propel Ireland towards another team medal as well.
Newcastle woman O'Flaherty saw McCormack's form as close quarters as they trained together during a recent altitude stint in the French Pyrenees.
"Fionnuala has recovered well after the Chicago Marathon," says O'Flaherty.
"I expect her to run well this weekend which will really help us team wise."
McCormack clinched her first European title in Slovenia in 2011 and her successful defence 12 months later in Budapest helped the Irish women's win team gold as well.
The Irish women were back in the medals 12 months ago when McCormack's sixth place helped pip France for the team bronze.
O'Flaherty, who like the Wicklow woman is already qualified for next year's Olympic Games in Rio, will be surprised if McCormack is outside the top six in the French Riviera resort of Hyeres this weekend.
"Fionnuala put in a really good performance a couple of weeks ago in Madrid where she finished ahead of a number of girls who she will be running against this weekend, including the Ethiopian-born Trihas Gebre, now running for Spain.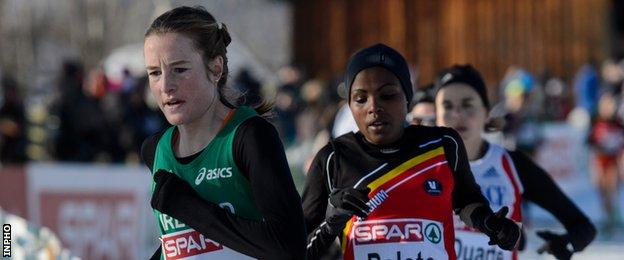 "Gebre finished third in Burgos a week later when I ran myself so that is a pretty good indicator that Fionnuala should go well this weekend."
In terms of her own prospects, track steeplechaser O'Flaherty is not setting any particular finishing target.
"I'm just going in to run as strong a race as I can and leave nothing in the tank. I'm not too sure position wise," says the 34-year-old.
"Sunday is all about the team and packing well and trying to get past as many people as you can on that finishing straight.
"Last year, the Irish girls pipped France for the bronze by only one point so every point can count.
"France are sure to be strong on home soil and they will have former champion Sophie Duarte in their ranks.
"Britain won the team gold last year when Gemma Steel and Kate Avery finished first and second in the individual race and they will be strong again along with Spain.
"But hopefully Fionnuala will go really well in the individual and that will set us up for a chance of another team medal."