Tom Bosworth: The man who can walk faster than you can run
By Betty Glover
BBC Kick Off Reporter
Last updated on .From the section Athletics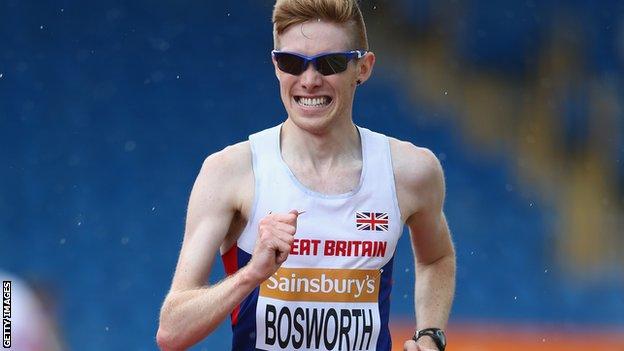 IAAF World Championships on the BBC
Venue:
Bird's Nest Stadium, Beijing
Dates:
22-30 August
Coverage:
Live on BBC TV, Red Button, Radio 5 live, online, mobiles, tablets and app.
Race walking is not quite a walk in the park. In fact, the event comes with athletic discipline, technical training and endurance.
The Sevenoaks-born athlete set a new British record for the 5km walk at the British Championships last month, and is aiming to continue his recent form when he competes in the 20km event at the World Championships in Beijing on Sunday.
"It will be my first World Championships and I just want to go there and show the world what I can do," he told BBC Radio Kent.
"I want to end with a top 20 finish."
Bosworth won the 5km walk in Birmingham at a time of 19 minutes 00.73 seconds last month, and his best pace over 10km is 39:36.
What is race walking?
Race walking is a progression of steps so taken that the walker makes contact with the ground, so that no visible (to the human eye) loss of contact occurs.
The advancing leg must be straightened (i.e. not bent at the knee) from the moment of first contact with the ground until the vertical upright position.
Read more at the Race Walking Association
Bosworth's best over 20km is just 17 seconds shy of the British national record, which stands at 1:22.03 and was set by Ian McCombie at the Seoul Olympic Games in 1988.
The Tonbridge AC member, who trains in Leeds at the National Race Walking Centre, hopes that winning an international medal would get more people involved in the sport.
Great Britain has won four Olympic race walking gold medals, with Ken Matthews and Paul Nihill the last to get on the podium, winning gold in the 20km and silver in the 50km respectively at the Tokyo Games in 1964.
No British walker has won a medal at a European Athletics Championships since Roger Mills took bronze in the 20km in 1974, while Great Britain has not won a race walking medal at the World Championships.
"It is just very quiet and unheard of because we haven't had an international medal in it for a long time," Bosworth said.
"It will get people talking and think, 'Actually I would like to give this a go and beat runners walking'."

Although similar to running, Bosworth believes that the race walking is almost harder.
"My training is really similar to endurance runners," he said. "I do a lot of mileage and gym work - it is like training for a marathon.
"You have to master the technique and the races are judged on technique, whereas running races you don't have that limit on yourself.
"Unfortunately it's such a niche event, not many people have heard of it and say that it is running. But actually, I am just walking at the same speed as loads of people can run."
Bosworth's race walking career took off in 2009 when he was selected for the British team at the age of 19.
Who is Tom Bosworth?
Born 17 January 1990 in Sevenoaks, Kent
Trains at the National Race Walking Centre in Leeds
Is the British senior record holder over 5km and 10km, and U23 record holder over 20km
Finished 12th in the 20km walk at the European Athletics Championships in Zurich in 2014
Set a new British record over 5km at the British Championships last month
"It wasn't like at 10 years old I was hoping that when I grow up, I want to walk for my country," he added.
"But I started it at my local athletics club and as I got older and stronger and my times were getting faster I thought 'hang on, I could be quite good at this'."
As much as Bosworth is aiming to make an impression in Beijing, he has one eye on the Olympics in Rio de Janeiro next year.
"I have the qualifying time for Rio but it's still a long way to go and I can learn so much from the World Championships," he said.
"The more I can learn from this, the better prepared I can be for Rio."