IAAF hits back at scientists over doping allegations
Last updated on .From the section Athletics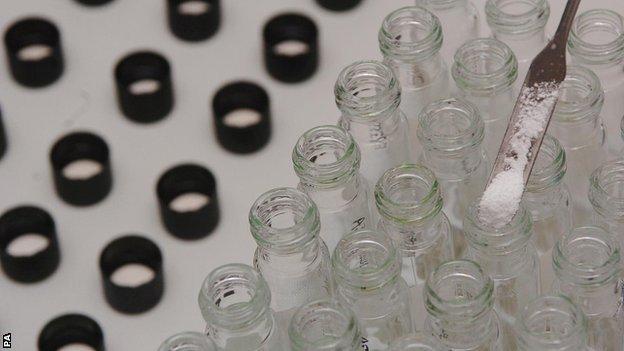 The International Association of Athletics Federations has criticised doping claims made by two scientists.
Robin Parisotto and Michael Ashenden analysed blood tests from athletes which were accessed by the Sunday Times and German broadcaster ARD/WDR.
Parisotto said he had never seen such an abnormal set of blood values.
The IAAF countered: "They do not have access to IAAF testing records and are therefore not able to know if proper testing follow-up was conducted."
A total of 12,000 blood tests from 5,000 athletes were assessed and the report claims a third of medals (146, including 55 golds) in endurance events at the Olympics and World Championships between 2001 and 2012 were won by athletes who had recorded suspicious tests.
Ten medals at London 2012 were allegedly won by athletes who had dubious test results and a top UK athlete was among seven Britons with suspicious blood scores.
Parisotto said: "So many athletes appear to have doped with impunity, and it is damning that the IAAF appears to have idly sat by and let this happen."
According to Ashenden, the files show athletics is now in the same "diabolical position" as cycling during the Lance Armstrong era. He said it was "a shameful betrayal of [the IAAF's] primary duty to police their sport and to protect clean athletes".
The findings prompted the World Anti-Doping Agency (Wada) to begin an "urgent" investigation.
Athletics' world governing body the IAAF issued a statement saying the report by the two scientists "contains a number of seriously incorrect assertions."
It added: "Of most concern to us is that the two scientists continue to defend their statements that the IAAF did nothing to act on 'suspicious profiles.'
"If these scientists have evidence that the IAAF did not follow up suspicious samples, then they should immediately make this available to the Wada Commission.
"If they do not have evidence, then we urge that they refrain from making assertions of wrongdoing.
"The IAAF will also write directly to the two scientists in question and to Wada to further outline additional concerns we have with their statement."