Andy Turner: Former hurdler backs 'one strike' bans for doping
Last updated on .From the section Athletics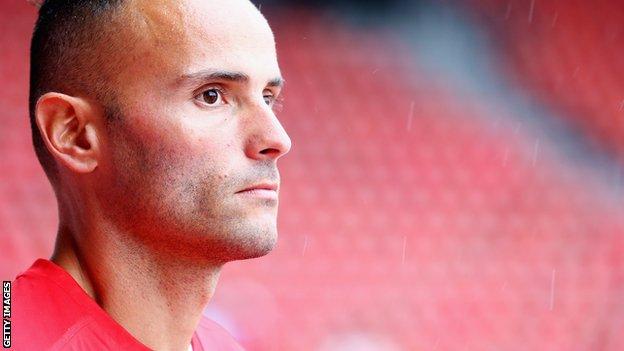 Ex-110m hurdler Andy Turner says athletes caught doping should be given a "one strike" ban by the International Association of Athletics Federations.
He told BBC Radio Nottingham: "I'm not sure I believe one-in-seven. That sounds a little bit high.
"I do think it is a minority (of athletes). I don't believe it's as rife as people think it is."
Punishments handed out by the IAAF for doping offences vary on a case-by-case basis, but Sebastian Coe, who is standing for president of the organisation, has promised to establish an independent anti-doping agency within 100 days if he is elected.
Turner said current punishments were "too soft" and continued: "It's got to be simple: you fail (a doping test) you're done for, you're out of the game. One strike and you're out."
Andy Turner's career honours

World Championships

European Championships

Commonwealth Games

Bronze, Daegu 2011

Gold, Barcelona 2010; Bronze, Gothenburg 2006

Gold, Delhi 2010;

Bronze, Melbourne 2006
However, he believes there is a public misconception about the use and availability of performance-enhancing substances within athletics.
"People think some dodgy-looking geezer comes up to you and says 'I've got some drugs for you'. It's not how it happens," he said.
"As an athlete, I wouldn't have a clue where to go and get it. You hear about a lot of coaches, who were ex-athletes, who have had failed tests in the past. They're the groups you have to be suspicious of."
Turner said the idea of using performance-enhancing drugs never crossed his mind during his track career.
"I wanted to see how far I could take myself. I was proud of my own achievements.
"It would have been tainted if I had taken something. In athletics all you have is your name," he added.
IAAF World Championships on the BBC
Venue: Bird's Nest Stadium, Beijing
Dates:
22-30 August
Coverage:
Live on BBC TV, Red Button, Radio 5 live, online, mobiles, tablets and app.