Bobby Clay: How a love of poetry inspired GB's 1500m champion
Last updated on .From the section Athletics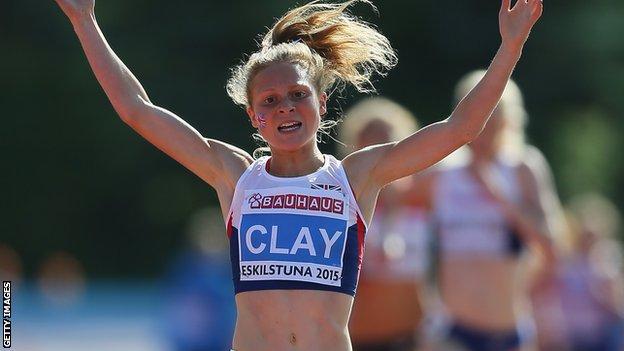 The performances of elite athletes are sometimes referred to as being "poetry in motion" - but European junior 1500m champion Bobby Clay has taken this a stage further.
The 18-year-old was selected as one of Great Britain's co-captains for the Championships in Eskilstuna in Sweden last month and decided to read a self-penned poem to the team before the action got under way.
"Being captain was such an honour but the most daunting part was the speech before it all started," she told BBC Radio Kent.
"I didn't know what to say because you're talking to people who are elite in their field.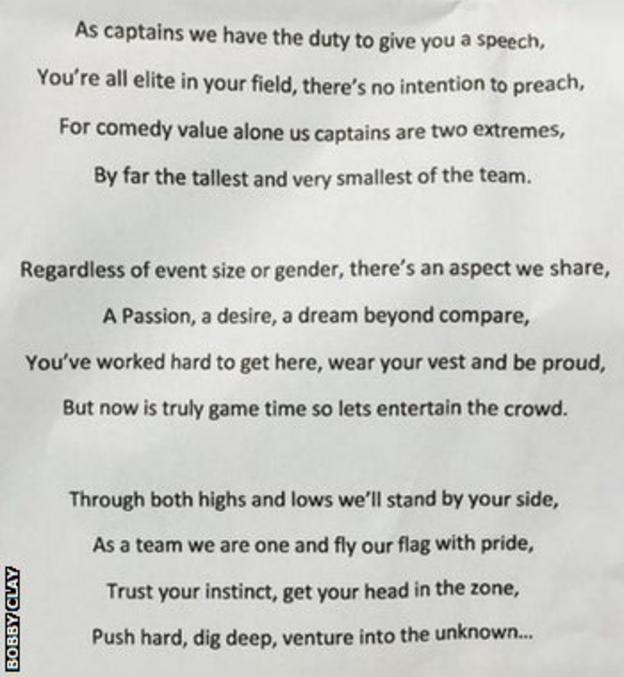 "You can't preach to them because they're already so good at what they do, so all I could think to do was to write them a poem. It's something I enjoy doing but I don't normally read out my poetry to people, so I was really nervous.
"But I thought with me being captain I should display a part of me they hadn't seen before. They seemed to like it anyway."
The poem makes reference to the "comedy value" of Clay - who stands at about 4ft 11in - and her captaincy pairing with the 6ft-plus hammer thrower Taylor Campbell.
"The size difference was just ridiculous but he's a good friend and it was just comical," said Clay, who stood on a handy bench to pose for photos with Campbell after being appointed captain.
"I'm just under 5ft, he's well over 6ft and weighs about three times what I do!"
Clay, who recovered from a knee injury which wrecked her winter training plans, certainly led by example in Sweden, leading home a British one-two in the 1500m as she finished ahead of team-mate Amy Griffiths.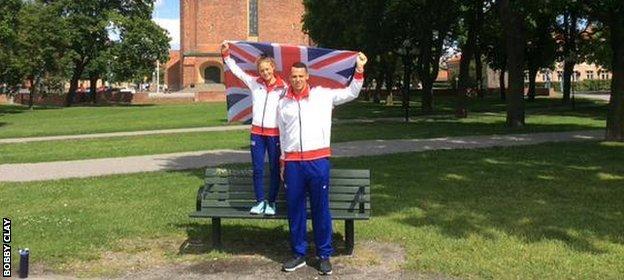 "Everything was building up to that race and I knew when I was standing on the start-line that I had to perform now after months of rehab through the winter," said Clay, who led GB to the top of the medal table in Sweden.
"I like that pressure and I need that to perform at my best."
Clay said her recent success was partly down to a change in mental approach this season.
"Last year I was over-thinking the race, making it too complicated," she said.
"Now the gun goes and I almost switch my brain off so I'm running more on instinct and that works for me."
Interview by BBC Radio Kent's Claire Cottingham