Record breakers: Have athletes reached their limits?
Last updated on .From the section Athletics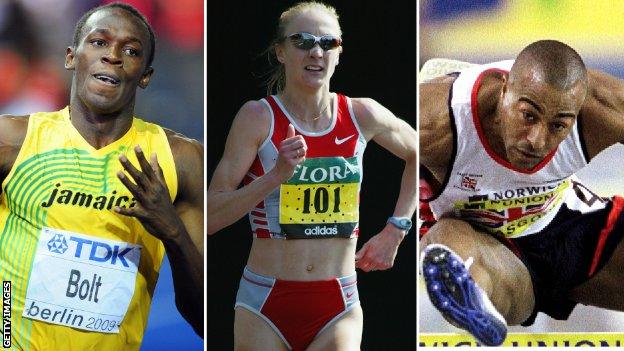 IAAF World Championships on the BBC
Venue:
Bird's Nest Stadium, Beijing
Dates:
22-30 August
Coverage:
Live on BBC TV, Red Button, Radio 5 live, online, mobiles, tablets and app
Greatness is usually attained by those who know of no limits. They are the ones who seek to become better, faster and stronger than those who have gone before. But is there an end point to human achievement?
No matter how hard they strive, no matter what the genetic make-up, are athletes soon to run, jump or throw themselves into a brick wall?
With the help of world record holders Paula Radcliffe and Colin Jackson, and one of Britain's leading sports scientists, Professor Greg Whyte, we look at what it takes to break a world record and ask at what point records will cease to tumble.
Are record-breakers made or born?
The story behind any record-breaking leap, dash or throw inevitably includes an unrelenting training regime. Day after day, year after year, coach and athlete will develop and perfect; tinkering and fine-tuning like mechanics in a bid to create the best machine there has ever been.
But there is more to being a history-maker than possessing the will to practise, practise, practise. These outstanding individuals are designed by birth, inheriting the genes and traits which make excellent people excellent.
Their greatness is genetic and it is learned.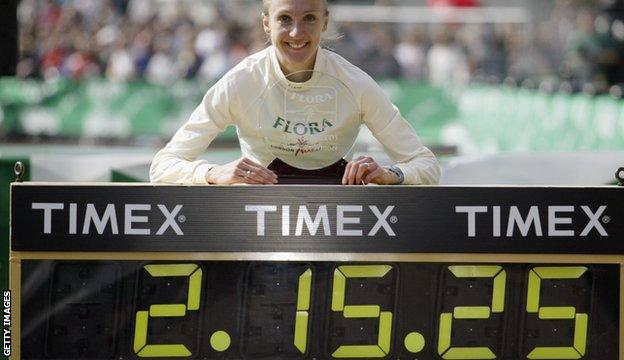 "It's a combination of those born with the right product, they've got what it takes underneath the bonnet," Professor Whyte says in the BBC Two documentary How Far, How Fast? "But it has to be managed and developed beautifully."
Paula Radcliffe, the women's marathon world record holder, says she had, for a long period, a body which was able to "absorb huge amounts of training". Perfect for an event which requires the work ethic of a pit pony.
But what Britain's greatest female distance runner does not mention in Sunday's forthcoming documentary is that her VO2 max (the maximum amount of oxygen a person can shift through their lungs) when tested at 17 was, writes David Epstein in his book The Sports Gene, "as high as elite female athletes ever get". Radcliffe was blessed with natural gifts.
How does it feel to achieve a world record?
While filming the BBC documentary 'The Making of Me' in 2008, double world champion Colin Jackson discovered 25% of his muscles were super-fast twitch - a type of muscle fibre so rare that no more than 2% had ever been found in any other athletes similarly tested.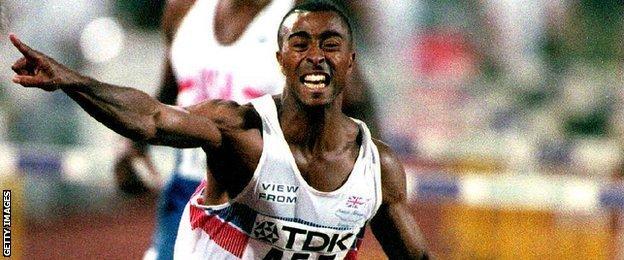 Combined with his ability to focus and to cope with failure - further tests found Jackson was in the top 2% of the population in these traits - and the guidance of a top-level coach since the age of 15, it was perhaps no surprise that this son of Jamaican parents not only won 110m hurdles gold at the 1993 World Championships but shaved a hundredth of a second off the world record.
"It's such an unusual feeling," said the Welshman, whose record time of 12.91 seconds stood for more than a decade.
"Sometimes you've not targeted a time as being your key performance of the season so when it happens, when you become the best, it's scary because it's something you've dreamt of but something that so rarely happens."
Pole vault world record holder Renaude Lavillenie says an athlete will feel "something special" the day of an event only "a few times in a career".
"When you have an opportunity to get it, you enjoy it to the maximum," the Frenchman said.
How does it feel to lose a world record?
Records, so they say, are there to be broken. Jackson was at his parents' home in Cardiff when, in 2006, China's Liu Xiang eclipsed the former Olympic silver medallist's best by 0.03 seconds.
It was a journalist who informed the former hurdler he was the world record holder no more. The reaction in the Jackson household? Laughter.
"My father told me 'you had something but leave this world with nothing' and that was our attitude," Jackson recalled.
"I lost my world record when I was retired so there was no way I was thinking about getting it back, so I felt comfortable about it. My attitude would have been different had I been a competing athlete and, perhaps, it would have given me extra fire to work harder."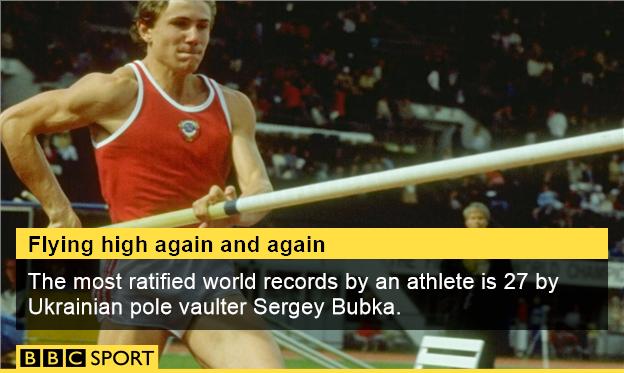 But there is comfort for Jackson, unbeaten in 44 races at the height of his career, as he still owns the 60m hurdles world record he set in 1994.
It is a time - 7.30 seconds - which the Briton himself thinks is "virtually impossible" to beat. "It was the only time ever in my career that I was actually trying to break the world record," he said. "I was ecstatic when I did that. To run that over the hurdles is ridiculously quick."
How big an incentive is breaking a world record?
Medals can be worn, polished, displayed or stored away. Won legitimately, that precious metal will forever be a symbol of an athlete's sweat and toil. But for some it is the quest to do something no human has ever done, to improve on perfection, which drives them.
Olympic triple jump champion Christian Taylor has Jonathan Edwards' magnificent 18.29m leap in his sights. The American's best is 23cm short of the Briton's feat. It is a small step for a man, but a gap which leaves a history-chasing triple jumper with, Taylor says, "quite a bit of work to do".
"The world record has been on my mind since I got into the triple jump," the 25-year-old Georgia native said. "It would be mind-blowing to break the record. I'm very passionate about it.
"To get the world record that, to me, is the signatory that you're the best of all time. To say you are the greatest jumper in the world... I don't know if there's a word for that.
"It's something I'm chasing every day. It's going to take the perfect atmosphere, all the variables coming together, but to say this could be the year - that's what I'm hoping for."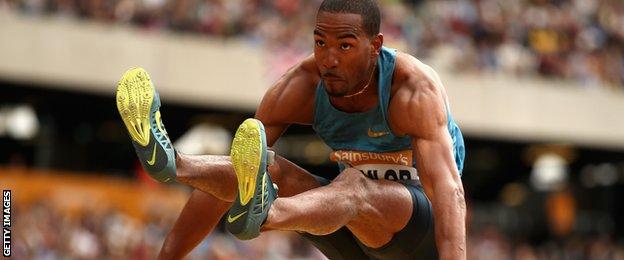 Have the limits of achievement been reached?
There have been 11 world records across 10 events, indoors and outdoors, this year and while athletes will continue to break barriers for some time, they are touching the ceiling of what can be further achieved. There already are, according to Professor Whyte, records which will never be broken.
Records which could be broken in 2015

Women's hammer

- Poland's Anita Wlodarczyk has recently set the world record at 81.08m but could go further in Beijing later this month.

Women's 20km walk

- Home support in Beijing could inspire world record holder Liu Hong to lower the time of 1:24.38 she set this year.

Men's triple jump

- Cuba's Pedro Pablo Pichardo and America's Christian Taylor are pushing each other closer to Jonathan Edwards' 20-year-old mark.

Men's 4x100m relay

- A record time might be needed with Jamaica's team, featuring Usain Bolt, and America's team, featuring Justin Gatlin, set to meet in a titanic battle in the Beijing final.
"We're right at the limit," he said. "If you look at all our work around the marathon, for example, the current world record for the men, and particularly the women, already lie above what we think humans will ever run in the future.
"Will the two-hour marathon ever happen? Probably not. Will Paula Radcliffe's world record ever be beaten? Probably not. Nine seconds in the men's 100m is pie in the sky.
"We're starting to plateau and what we're looking for is unique individuals. It's a wonderful middle-class myth that what we've got is the greatest athletes on the planet. What we've got are the greatest athletes on the planet who have had the opportunity."
Watch 'The Olympic Journey: How Far, How Fast' on BBC Two on Sunday, 9 August, at 17:30 BST.