Lennie Waite fails in World Athletics Championship appeal
Last updated on .From the section Athletics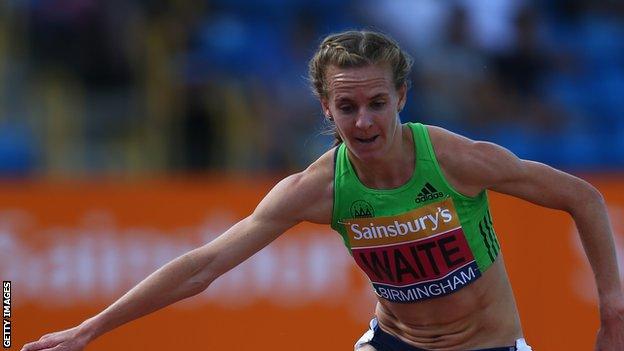 Steeplechaser Lennie Waite said the British selection process for August's World Championships in Beijing was "unfair" after she failed to overturn a decision to omit her from the squad.
The 28-year-old had run the 3,000m steeplechase qualifying time, but to ensure selection had to run it twice.
"I can't help but sit here and feel that the British Athletics process is unfair to its athletes," she said.
European 10,000m silver medallist Andy Vernon also failed in his appeal.
"Thanks for everyone's support on this, it's really appreciated. I'll be racing in Belgium tomorrow night," he tweeted.
Waite said she had the potential to make the 3,000m steeplechase top eight - one of the considered criteria for selection - at the championships in China, which start on 22 August.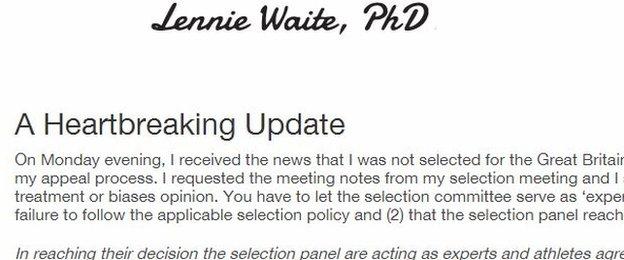 After saying her personal best of nine minutes 40 seconds was six seconds slower than the athlete that finished eighth at the World Championships two years ago, she said: "The time to make top eight in the women's steeplechase final has consistently been 9:32-9:35."
She added in her blog post: "There will be no British steeplechasers at the World Championships. I will not get to serve as an inspiration for the next generation of athletes."
What are the rules?
To qualify for selection, athletes must either be a reigning world or European champion, or finish in the top two at the British Championships and run inside the qualifying time twice.
If an athlete makes the qualifying time once, they may still be selected if the British Athletics selection panel feel they have "realistic potential to finish in the top eight in their event" in Beijing, or they are "a developing athlete" who is progressing towards future Olympic medal success.
Athletes omitted from the British squad could appeal against the decision on the basis that the selection policy had not been followed or that there was a factual error in the selection decision.