Beijing-bound Scots backed for glory by athletics chief
Last updated on .From the section Athletics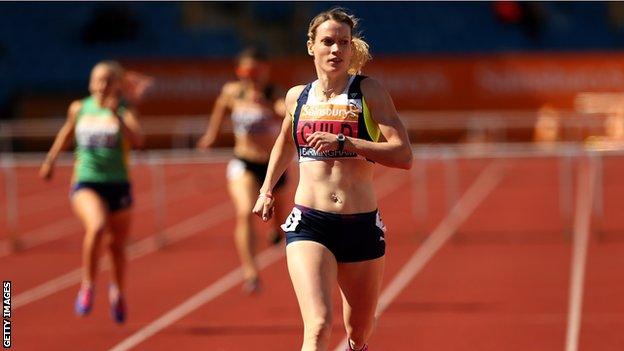 Scottish Athletics chief executive Nigel Holl has backed the country's British champions to shine at the World Championships in Beijing.
Eilidh Child, Laura Muir and Lynsey Sharp won gold medals at the British Championships in Birmingham to secure their places in the Great Britain team.
"It's a wonderful preparation for the Rio Olympics to come," Holl told BBC Scotland.
"Beijing is a great opportunity. I'm sure they will step up and perform."
Following the latest weekend of competition, Scottish women are British champions in every event from 800m to 10,000m.
Rhona Auckland had won the 10,000m title staged earlier in the year, then Sharp won the 800m, Muir the 1,500m, Lennie Waite took gold in the 3,000m steeplechase and Steph Twell completed the clean sweep by winning the 5,000m.
Child also finished first in the 400m hurdles in Birmingham on Sunday.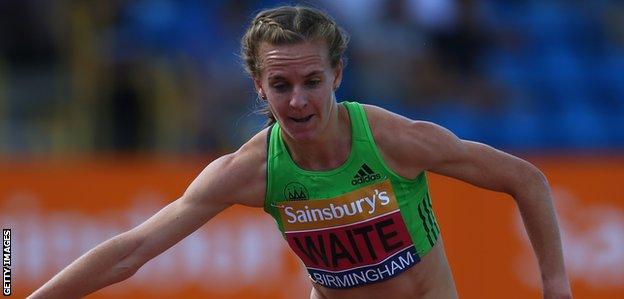 Despite their victories, Auckland, Twell and Waite have not yet secured their places in the GB team, due to be announced next week, as they needed to run their respective qualifying times twice.
However, Holl is hopeful that there will be more than three Scots in Beijing and believes the country's athletics is showing signs of recovery after a poor last 10 years.
"As we have seen recently, probably in the last 18 months, we have got athletes who are performing when it counts," he said.
Holl believes the turnaround has been speeded up by Glasgow's hosting of the 2014 Commonwealth Games.
"I'm very happy at where we are to be honest and I credit the turnaround starting with what's happening at club level," he added.
"You have got to have strong clubs and our clubs generally are doing a fantastic job."