Holly Bradshaw achieves World Championship mark after break
Last updated on .From the section Athletics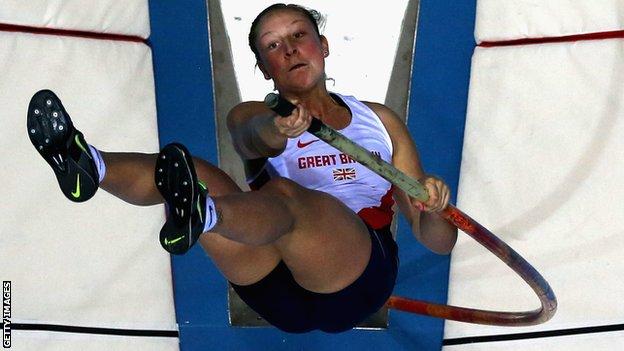 Pole vaulter Holly Bradshaw believes a 16-month break to help get over injuries has been worth it after qualifying for the World Championships.
The British record holder made her return at the Welsh Championships and achieved the 4.50m mark for Beijing.
Bradshaw, from Euxton, took time off after a series of injuries and used a sports psychologist during her break.
"I'm really pleased as it was such a difficult decision," the 23-year-old told BBC Radio Lancashire.
"I obviously love the sport and love competing and to take a break away and sit back at home and watch, it was a big challenge for me.
"I knew deep down in my heart that I'd had a couple of injuries that I needed to get over and now I know more than ever it was the right thing to do."
The 2013 European Indoor champion, who finished sixth at the 2012 London Olympics, had not competed since March 2014 before her comeback in Cardiff at the weekend.
"I can't even describe how it felt being back, it was amazing," she added.
"I was super nervous beforehand, but as soon as I got out there I knew what I was doing and it felt amazing just to be back on the track and in competitive action."