Island Games 2015: Guernsey win half marathon team gold medal
Last updated on .From the section Athletics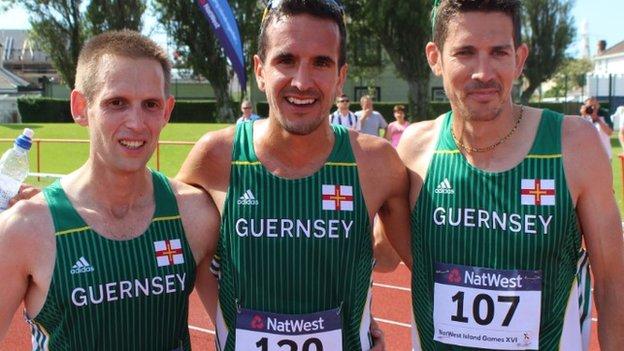 Guernsey won men's team gold in the half-marathon, their first gold at the 2015 Island Games.
The island's Olympic marathon runner Lee Merrien was second overall, finishing 35 seconds behind Bermuda's Christopher Estwanik, with Isle of Man's Kevin Loundes third.
Michael Wilesmith's fifth place and David Emery's 11th-place finish ensured team gold for Guernsey.
Guernsey's Louise Perrio won bronze in the women's race.

"I'm disappointed, I came here wanting to win the race," Merrien, who won gold in his last island Games half marathon in 2011, told BBC Radio Guernsey.
"I didn't run as well as I would have liked today, I found it a bit tougher earlier in the race than I would have hoped.
"Our goal as a team was to win half marathon gold, there were some jokes when we knew what the start list was that it was ours to lose.
"It's nice to win team gold as we're running friends and it's not often you can race as a team in what is quite an individual sport."