Zharnel Hughes: Highly rated sprinter eligible for Team GB
Last updated on .From the section Athletics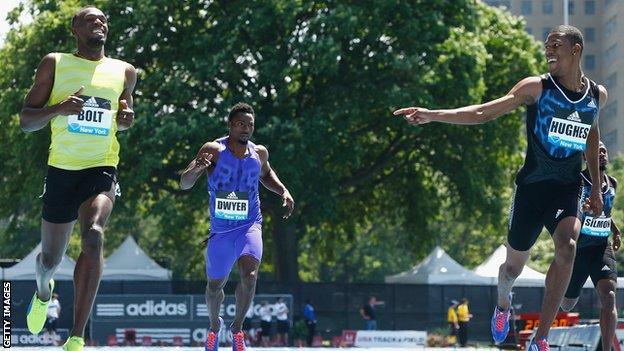 Highly rated sprinter Zharnel Hughes has been ruled eligible to compete for Team GB.
Hughes, 19, was born on the British overseas territory of Anguilla, but has held a British passport since birth.
"I have always known that if I was to run at the Olympics it would be in a British vest," he said.
In March 2014, Hughes broke Jamaican sprinter Yohan Blake's 100m junior record with a time of 10.12 seconds and almost beat Bolt in the 200m recently.
He was edged out at the New York Diamond League meeting in June with the Jamaican 100m and 200m Olympic champion Usain Bolt clocking a time of 20.29.
Anguillans can compete at the Commonwealth Games and World Championships, but athletes from the island are unable to enter the Olympics as Anguilla is not recognised by the International Olympic Committee.
Hughes said in 2014 that competing for Team GB "would be the best choice", something which he is now eligible for.
American Cindy Ofili (100m hurdler) has also held British nationality since birth, while compatriots Shante Little (400m hurdler) and Montene Speight (400m runner), plus Swedish-born high jumper Victoria Dronsfield, all hold British nationality.
Zharnel Hughes analysis: Mike Costello, BBC Radio 5 live athletics correspondent
"Britain's Richard Kilty, who is the world and European indoor champion over 60m, posted a sarcastic tweet which he has since deleted saying 'good for fans to see home grown talent representing GB'.
"He later said that all the sprinters he'd spoken to felt exactly the same way but didn't dare speak out. But however strong the feelings of Kilty and others, Hughes has every right to represent Britain because of the historical links with Anguilla.
"It is an historical island in the Caribbean and it's status is the same as the Falkland Islands as a British overseas territory. I'm not sure there would be the same kind of dissent against an athlete from the Falkland Islands because of the emotions enduring from the conflict more than 30 years ago."
Ofili, the younger sister of hurdler Tiffany Porter, ran a personal best of 12.60 seconds in Eugune in June - the seventh fastest time in the world this year.
However, the announcement was criticised by British athlete Richard Kilty, while former heptathlete Kelly Sotherton said she was "not sure about it".