Sally Pearson feared amputation after falling in Rome 100m hurdles
Last updated on .From the section Athletics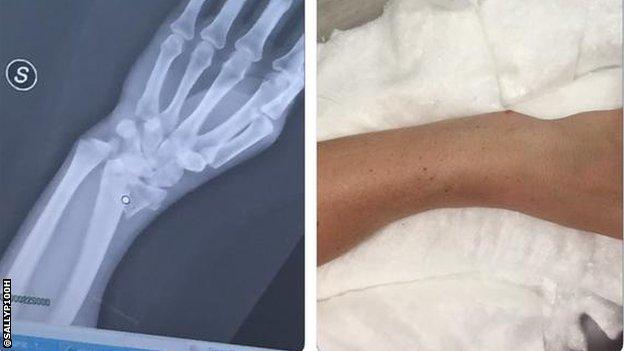 Olympic 100m hurdles champion Sally Pearson feared her left hand would have to be amputated after she fell at the Rome Diamond League event on 4 June.
Pearson's lower arm turned blue after her fall, which caused what doctors described as a "bone explosion".
The Australian, 28, had surgery on her left wrist in Italy but will miss August's World Championships in Beijing as she requires another operation.
"I was terrified seeing my hand going in a different direction," she said.
"I thought they would have to amputate."
Pearson, who won gold at London 2012 and added the Commonwealth title last year, fell after hitting the fifth hurdle of the race in Rome.
"I've never broken a bone, I've never had stitches or surgery before," she said. "Doing all of that in one, in a different country, was very traumatic.
"But I do put things into perspective and think I am very lucky with what happened. If it had been the ankle, it would be a completely different story."
Asked about missing the chance to regain the world title she first won in 2011, Pearson said: "It's very disappointing but this will be a very good mental and physical break leading into the Olympics next year."