World Championships: Steph Twell dreams of GB and NI place
Last updated on .From the section Athletics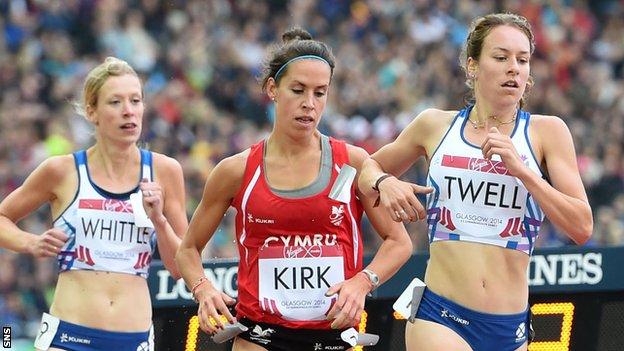 Steph Twell believes a third visit to Beijing, this time for the World Championships in August, would be just reward for overcoming her injuries.
The Delhi Commonwealth Games medallist is targeting a 5,000m place in the GB and NI team, having made the qualifying standard once earlier in the season.
"I would be so happy to make a GB team for Beijing. I would be so thrilled," said the 25-year-old.
"It would be a true testimony to my strength of character coming back."
The Scottish athlete first went to Beijing for the World Junior Championships in 2006 and returned for the 2008 Olympics, aged 18.
But she fractured her ankle in a cross-country race in Belgium in 2011 and suffered a stress fracture to the same foot the following year.
Those injuries cost her a place at the London 2012 Olympics and she was not at her best in the Commonwealth Games at Hampden last summer, where she finished 14th in the 1,500m.
However, things look to be improving for Twell, who beat the 5,000m qualifying standard in America with a time of 15 minutes 13.82 seconds.
She recorded 15:21.36, just over a second away from another 15:20.00 standard, in the Diamond League in Oslo last Thursday.
And she turned down a GB vest for the European Team Championships in Russia in order to focus fully on the 5000m at the British Championships and World Trials in Birmingham in early July.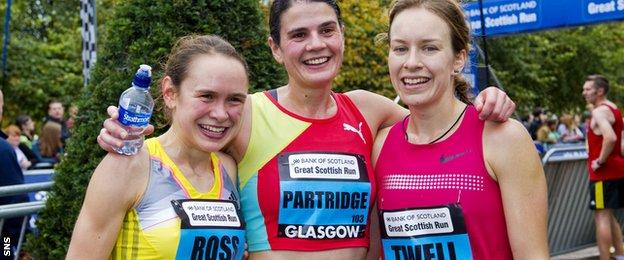 In a blog for Scottish Athletics, Twell said overcoming the physical injuries and some of the mental disappointments and frustrations "has been hard".
She added: "I feel now I have 'grieved' the injury long enough. I am moving forward now with my body the way it is and I want to come to the British trials and try and secure the 5,000m place.
"Athletics offers you chances and then, when you get there, you have to train even harder to do your best to perform.
"I have done the hard graft months ago and now it is coming together.
"I've had to turn down a chance to run at the Euro Team Champs because I was in Oslo for the 5,000m. Russia would have been another 5,000m and then the trials in Birmingham are right after that.
"So that would have been three in a very short period and that's not the best plan looking forward. I'd love to have worn the GB vest in Cheboksary, but hopefully that is coming up again in Beijing.
"I was there for the World Juniors Champs and there for the Olympics - so I know the stadium and the lie of the land.
"I'm thinking a hat-trick would be really quite something."