Alberto Salazar: Ex-Oregon Project runner backs BBC's doping claims
Last updated on .From the section Athletics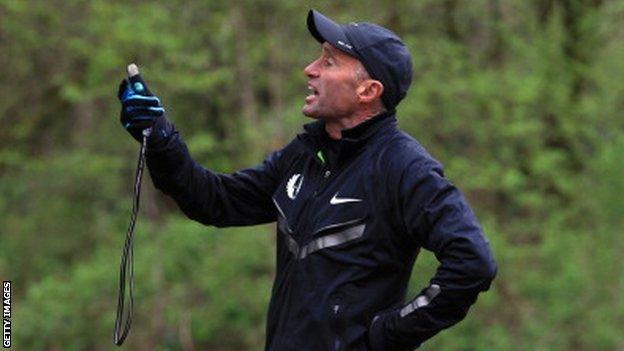 A former runner who trained under Alberto Salazar has backed the "full extent" of allegations reported in a BBC investigation that his ex-coach was involved in doping athletes.
Josh Rohatinsky ran for Salazar's Nike Oregon Project from 2007 to July 2009.
On Facebook, the 33-year-old outlined his fears over Salazar and Galen Rupp's relationship, saying his former NOP team-mate's improvement from 2006 to 2012 was "highly suspicious".
Salazar and Rupp deny the allegations.
In collaboration with ProPublica, the BBC programme Panorama reported claims Rupp, training partner of Team GB's double Olympic gold medal winner Mo Farah, took the banned anabolic steroid testosterone, under Salazar's supervision, when he was 16.
There is no suggestion that Farah has been involved in doping.
In an extensive posting on Facebook on 5 June, Rohatinsky spoke of:
A "wall of separation" between Salazar and Rupp and the rest of the group
Rupp's "highly suspicious" progress from 2006 to 2012
Believing "the full extent" of the evidence of all the witnesses in the documentary
Believing all performance-enhancing drug activity during his time at the NOP was "limited to Galen Rupp"
The odds getting "lower and lower" of "all these independent accounts being untrue and unsubstantiated"
Farah pulled out of a Diamond League meeting in Birmingham on 7 June and has flown to the United States to get the "answers" he is looking for from Salazar, whom he has worked with since 2011, when he joined the NOP.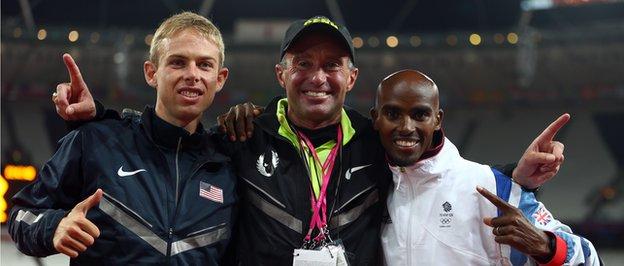 UK Athletics is conducting its own review, started in 2013, into their engagement with Salazar and the NOP.
Speaking to BBC Radio 5 live's Sportsweek, UK Athletics chairman Ed Warner said his organisation needed to be "swift but not hasty in coming to conclusions on facts as we find them".
Warner also said he had "complete confidence" in Farah and expects him to compete in the 5,000m and 10,000m at the World Championships in Beijing in August.
"He is going to get out there and show people the great athlete he is this summer," said Warner. "I am convinced of that."
Despite the allegations, Rohatinsky said Salazar "worked his butt off" and was "dedicated to taking care of the needs of everyone" in a group that also contained American distance runner Kara Goucher.
Goucher, who raced for the first time in two years on Saturday, said she quit NOP in 2011 over Salazar's alleged willingness to manipulate anti-doping rules.
But Salazar's industry was not enough to allay Rohatinsky's expressed concerns about the methods he used to turn Rupp into an athlete good enough to win silver behind Farah in the 10,000m at London 2012.
"The entire time I was with the group there was always a wall of separation between Alberto and Galen with the rest of the group," he said.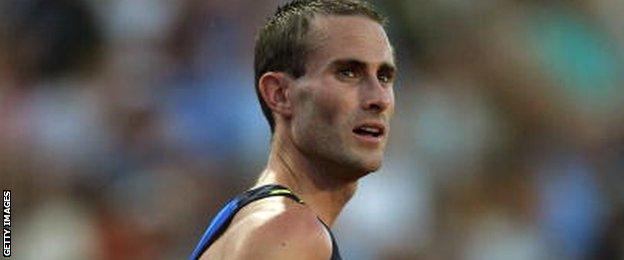 "The level of secrecy and seclusion was definitely palpable.
"Galen was improving during my time with the group but he obviously didn't peak until a few years after I left, when he took silver in London in the 10k.
"Watching that race live was surreal to me. Seeing someone I had trained with consistently for two years not too long before - and beaten several times in races in the years prior to that in college - push through that last lap and accelerate on the home stretch to beat the likes of the Bekele brothers was incredible.
"And when I say incredible I mean it in the literal sense of the word. How does that amount of progress happen in that short of a time frame?
"Alberto himself said back around the year 2000 that he believes it's near impossible to medal in a distance event clean.
"Did the sport get any cleaner from 2000-2012 to make that possible? No. Galen's progression from 2006-2012 was highly suspicious to me, particularly since I spent two of those six years with him."
Rohatinsky said Salazar asked him to take two supplements - Testoboost and Alpha Male - both of which were legal.
Goucher has said after she gave birth to her son, Colt, Salazar suggested that even though she did not have a prescription for it she should take Cytomel - a synthetic thyroid hormone given to people with underactive thyroids - to help her lose her pregnancy weight.
"It's evident from interviews with individuals like Kara Goucher that Alberto tried to push some of this on other athletes to some extent, but they had the integrity to question it and turn it down. Kudos to them," said Rohatinsky.
As leading athletes from the same era, both breaking world records in 1981, Britain's two-time Olympic gold medallist Lord Coe has monitored Salazar's career closely.
"I have known him a long time," Coe told Sportsweek, describing Salazar as a "detailed and fastidious coach".
But Coe added: "I am neither surprised nor sanguine about the allegations because my sport tends to be the world of rumour and counter rumour.
"He has some very serious questions to answer."
Salazar and Rupp strongly deny the allegations and Salazar has promised to provide evidence to refute them.