Gotzis heptathlon: Jessica Ennis-Hill third after opening day
By Aimee Lewis
BBC Sport in Gotzis, Austria
Last updated on .From the section Athletics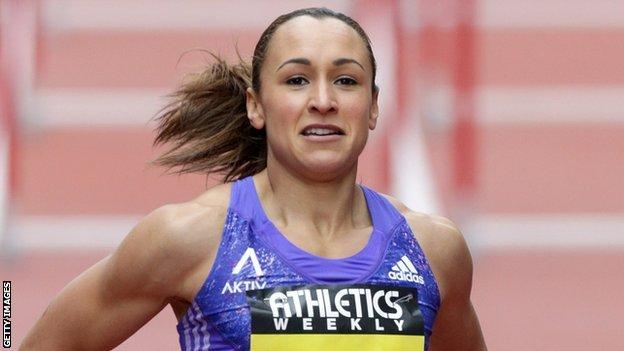 Olympic champion Jessica Ennis-Hill lies in third overall after the first day of the Hypo-Meeting in Gotzis.
The 29-year-old is 103 points behind leader Brianne Theisen-Eaton, who has 4031 points after four events.
The Briton's opening four performances put her well on course for the 6,200-points target she needs to qualify for the 2016 Olympics in Rio.
"It's been a mixed day but generally I'm quite pleased to be in third position," she told BBC Sport.
The long jump, javelin and 800m remain on Sunday in Ennis-Hill's first heptathlon since winning gold at London 2012,
Describing her opening-day efforts as a "nice surprise", Ennis-Hill said javelin training had been going well but admitted the long jump was a concern because of a troublesome Achilles which had put her participation in the prestigious invitational event in doubt.
Her opening run of 13.24 seconds in the 100m hurdles, her strongest event, was seven-tenths of a second outside her personal best, but still the fifth fastest time of the day.
She said she had been unable to do the necessary training to "do the sort of times I want to be running" but was delighted with clearing 1.86m in the high jump.
Former Olympic champion Denise Lewis
"The high jump was the event everyone seemed to be most worried about. It was really a test of how much work she's done and how fit she really is. But she's proved that, whatever problem she's had with the Achilles, her jumping ability is still present."
"I'm really, really pleased. I've probably just done four sessions but I really felt I had that ping again," she added, admitting she had worried in the build-up about not having enough "explosive power" to clear the barrier.
Ennis-Hill was second after the first two events, but dropped a place after the shot put, one of her weakest disciplines.
"I'm just competition rusty," she said. "It was wobbly at the beginning but to pull it back in the third round with 13.95m was really promising."
She clocked 23.86 secs in the concluding 200m - more than a second slower than the personal best 22.83 she set at London 2012 - and said she would particularly need to work on her speed.
"I'm lacking speed that I need but that's going to come from the training which I haven't, unfortunately, had time to do," added Ennis-Hill, who won in Gotzis the last time she competed there in 2012.
"I've just got to believe I can find the strength and speed I once had a couple of years ago and get back to my best."
Double European sprint champion Dafne Schippers, running in the same 200m race, clocked 22.39 to leap to second in the overall standings.
Morgan Lake, the other Briton competing in Gotzis, with last year's champion Katarina Johnson-Thompson absent through injury, lies 15th overall on 3634 points with the 18-year-old below her best on day one.
Her coach and father Eldon said he was not happy after the opening day, but admitted the teenager, who is in the middle of her A-level exams, had had other distractions in recent weeks.
Follow latest updates and reports on the second day of the Gotzis Hypo-Meeting on the BBC Sport website on Sunday, 31 May.