Roger Bannister's iconic running spikes are put up for auction
Last updated on .From the section Athletics
The running spikes worn by Roger Bannister when he became the first man to run a mile in under four minutes are to be put up for auction in September.
The Briton's leather shoes will go on sale on 10 September and are expected to be sold for between £30,000 and £50,000 at Christie's Auction House.
Bannister, now aged 86, set the landmark record on 6 May 1954 at Iffley Road sports ground in Oxford.
Chris Brasher and Chris Chataway helped him run in three minutes 59.4 seconds.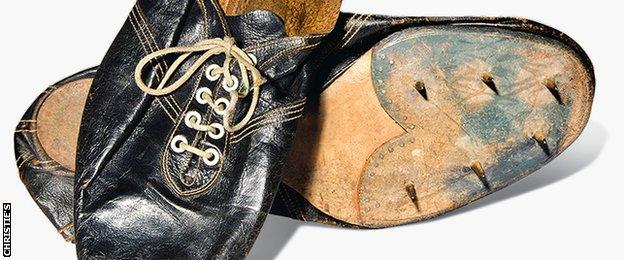 Bannister's footwear was designed to be much lighter than other running shoes of the time and weighed about four and a half ounces (112g), less than some contemporary models.
Reflecting on his iconic achievement in an interview with the BBC in 2014, the Englishman said "there was certainly a feeling of it being a national event and something of a landmark for the country".
Speaking not long before that interview, the former neurologist also revealed he had been diagnosed with Parkinson's disease three years earlier.
Christie's says Bannister is expected to donate some of the proceeds of the sale to a charity for medical research.