2015 Island Games: Guernsey pick 14 athletics debutants
Last updated on .From the section Athletics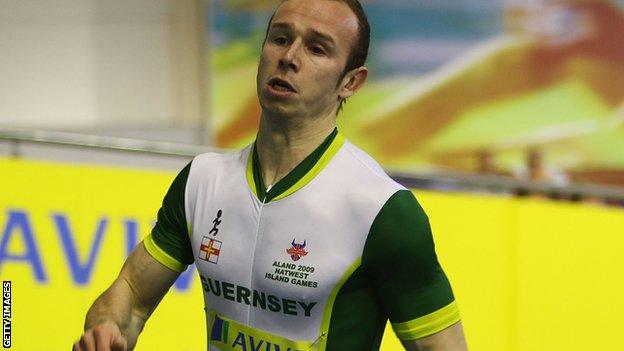 Guernsey's athletics team manager Tom Druce has selected 14 debutants as part of his 35-strong squad for this summer's Island Games in Jersey.
The entire women's 4x100m team will make their first senior appearances as well as 16-year-old Ed Mason.
"Hopefully the newbies will step up, enjoy the experience and be able to pass that on next time," Druce told BBC Radio Guernsey.
"We wouldn't put people in the deep end when they're genuinely not ready."
New Great Britain junior squad member Cameron Chalmers is named in the 400m while Lee Garland will compete in the 3,000m steeplechase 20 years after winning gold when the games were last held in Jersey 20 years ago.
Loughborough-based hurdler Kylie Robilliard will head up the women's side on the track having not travelled to Bermuda two years ago.
"I think Kylie will be great for the young girls in our sprint relay team to feed off her experience," added Druce, who was a 2010 Commonwealth Games semi-finalist.
"There's an element of pride at stake - you don't want to be out there in a Guernsey vest for the first time and it be a really negative experience."
Guernsey athletics squad for 2015 Island Games:
100m - Josh Allaway, Ala Chalmers, Kylie Robilliard
100m hurdles - Kylie Robilliard
Men's 4x100m - D Garland, Wallbridge, A Chalmers, Allaway, Robinson, Sermon
Women's 4x100m - Barrett, Mann, Gallagher, Marley
200m - Hywel Robinson, James Sermon
400m - Cameron Chalmers, Eleanor Gallagher
400m hurdles - Sam Wallbridge
Men's 4x400m - Wallbridge, Robinson, Allaway, C Chalmers
Women's 4x400m - Gallagher, Whitty, Toll, Rowe, Mercier
800m - Michael Batiste, Matt Loveridge, Nat Whitty, Katie Rowe
1500m - Will Bodkin, Michael Batiste, Sarah Mercier, Nat Whitty
5,000m - Will Bodkin, Jason James, Sarah Mercier, Nikki Neal
10,000m - Mike Wilesmith, David Emery, Louise Perrio, Rebecca Le Maitre
3,000m steeplechase - Ed Mason, Lee Garland
Half marathon - Lee Merrien, Mike Wilesmith, David Emery, Louise Perrio, Rebecca Le Maitre, Chantal Green
Long jump - Jonathan Guille, Sarah Waters
Triple jump - Jonathan Guille
High jump - Rebecca Toll
Javelin - James Bougourd, Michael Mann, Zoe Fitch, Ali Higgins