Justin Gatlin will not win people over - Steve Cram
Last updated on .From the section Athletics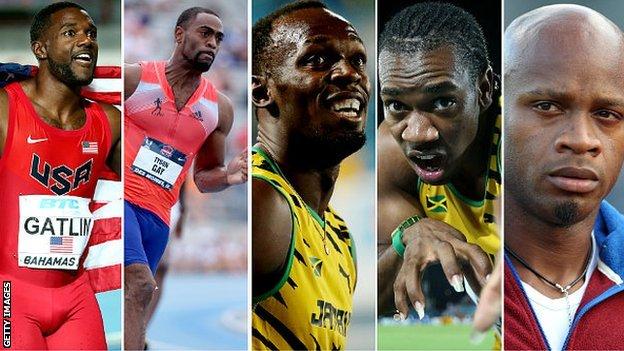 Diamond League highlights
Doha:
Sat 16 May, BBC One, 13:00 BST; Mon 18 May, BBC Two, 14:15 BST
Shanghai:
Sun 17 May, BBC One, 23:35 BST (00:20 BST in Scotland, 00:35 BST in Northern Ireland)
By Steve Cram, BBC Sport athletics commentator and former world 1500m champion
Justin Gatlin will be running his first race of the season on Friday, but I won't be getting excited about that. It's very difficult to be enthusiastic about someone like him.
For those unaware of the background, the American tested positive for an amphetamine in 2001, and in 2006 was caught with excess testosterone in his system. For his second offence he received an eight-year ban, reduced to four on appeal, and returned to racing in 2010.
It's not the American's fault he's been allowed back, but the 33-year-old dissects opinion straight down the middle.
People either view him as someone who's served his time, or as someone who is not a great example to either the IAAF (International Association of Athletics Federations) or to other young athletes.
He splits opinion among athletes, too. There are plenty who support him, most of them in the USA, and those who don't. It's the same with spectators.
The people who strongly feel he shouldn't have returned to the sport in 2010 still feel that way and I don't think he'll win people over because of the seriousness of his offence and the penalties he received. He escaped a lifetime ban when, at a different time, he would have received one.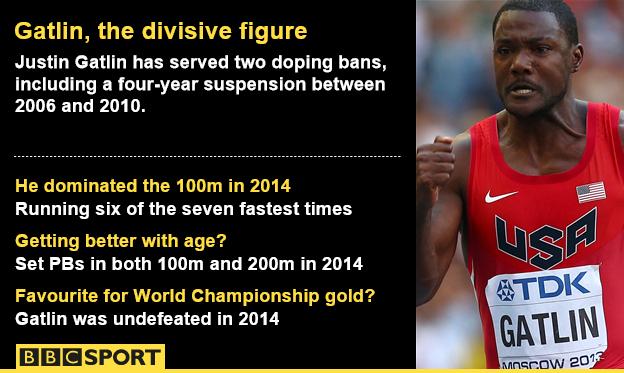 Nevertheless, all of us have to accept the situation and accept that he's running well.
Last year he ran six of the seven fastest times in the 100m and achieved personal bests in both the 100m (9.77 seconds) and 200m (19.68 secs). It's never a comfortable situation when someone who's had such a history is dominating, or is one of the world's best, but you have to accept it.
Obviously, Usain Bolt is the biggest name in the sport and it's important he runs well this year - less so to counter Gatlin but, simply, because the sport is in a better place when the Jamaican is running well and winning.
It will be an intriguing year in the sprints. There's a question mark over whether Gatlin is good enough to beat Bolt even if the Olympic and world champion isn't 100%.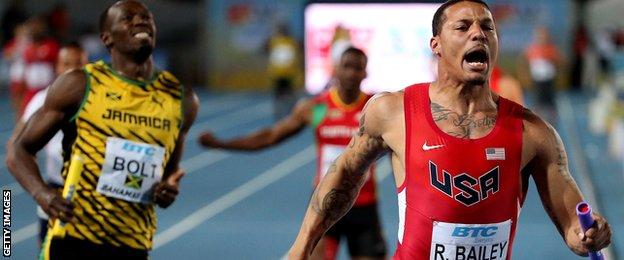 There's going to be a lot written about the sprinters and the 100m is going to generate a lot of headlines this year.
Asafa Powell, who served a drugs ban last year, is back and has run the fastest 100m in the world this year (9.84 secs) and Tyson Gay is running again too.
Bolt has waded in with his views on the former world champion, saying the American should have been banned for life for his failed drugs test.
Yohan Blake is another big character, either liked or disliked, and what hasn't been reported about much is the reaction Ryan Bailey received at the Jamaica Invitational Meet in Kingston last week.
The American was booed by the crowd, a consequence of his gesture after the Americans won the 4x100m at the World Relay Championships when he did a version of Bolt's 'lightning bolt' but with a throat slash.
Bolt's training partner Warren Weir went on to describe Bailey as a "little somebody" who had not shown Bolt any respect. It's fair to say the American-Jamaican rivalry has become a lot more intense.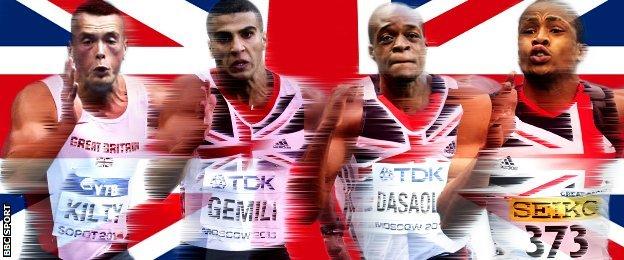 Hopefully James Dasaolu - who will be racing against Gatlin in Doha - and Britain's other sprinters can be a part of it all. They're absolutely capable of it and it's good for British sprinting that it's hard to get in the British team.
Ultimately, Adam Gemili might decide that it's in the 200m he will be most successful but he has a lot to offer in the 100m. And when Dasaolu is fit and at full throttle, he has the ability to be among the world's best.
The 100m final at the World Championships isn't until the third week of August so there's a lot of racing to be done before then, but it's fascinating.
Farah set for a big race in Doha
I haven't spoken to Mo, but I've heard he's in really good nick. He'll be competing in the 3,000m in Doha and that's an indication of his confidence.
We're going to see him run across the range of distances this year, from 1500m to 10,000m, because that's what makes him such a difficult man to beat at championships.
He can, on occasions, come to Diamond League meets and get beat because they're flat-out races, and he doesn't hold the 5,000m or 10,000m world record. But championships are very different types of races and it's Mo's speed which frightens the other athletes.
Jessica Ennis-Hill 'looks sharp'
From what I saw of Jess at the Great City Games in Manchester, she looked pretty happy with her performance in the 100m hurdles.
We'll know more about whether she will compete at the Hypo-Meeting in Gotzis after she's done the javelin and long jump at the Loughborough International meeting this weekend.
If Jess wants to compete in the World Championships in the heptathlon, she has to take part in a heptathlon event somewhere and there aren't many around. If Jess feels she can get a qualifying mark for Beijing in Gotzis, which should be fairly easy, she'll probably go.
I don't think she'll be too bothered about beating the likes of Dafne Schippers in Austria - that's something the media might worry more about at this point.
She's got 15 months to get herself into shape to defend her Olympic title and that'll be uppermost in her mind.
I'm sure she'd love to be in Beijing and back in the mix, but if it doesn't work out it doesn't work out. It'll depend whether Jess and her coach Toni Minichiello think she can go to the Bird's Nest and be reasonably competitive.
Steve Cram was talking to BBC Sport's Aimee Lewis.