Jessica Ennis-Hill: Doubt over Gotzis Hypo heptathlon return
Last updated on .From the section Athletics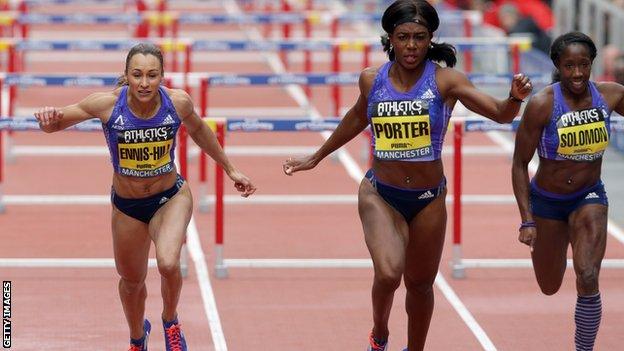 Jessica Ennis-Hill will only return to heptathlon action in Gotzis if she is fully ready, according to her coach.
Ennis-Hill had planned to compete in the Gotzis Hypo-Meeting in Austria on 30-31 May.
But coach Toni Minichiello said she "had a bit of work to do" before a decision would be made.
Ennis-Hill had been out for almost two years after giving birth to son Reggie last July.
The meeting in Austria would be her first multi-event competition since winning heptathlon gold at the London 2012 Olympics.
It would also be Ennis-Hill's first chance to reach the qualifying mark of 6,200 points for the Rio 2016 Olympics.
Minichiello said: "I need to put another couple of weeks of training in to know where we are in other events and see some other indicators in training that say it's worth going.
"Are we just going there for the sake of going or are we going there to produce a performance that has an Olympic qualifying score?
"Are we ready to participate in that kind of competition? If we're ready, then fine. There are three or four different options after Gotzis, so there is a lot of time."
Britain's Katarina Johnson-Thompson, 22, is the defending champion in Gotzis and British Athletics performance director Neil Black has described the prospective meeting in Austria between the Liverpudlian and Ennis-Hill as "spectacular".