Olympian Bryan Clay removes daughter's loose tooth with javelin
Last updated on .From the section Athletics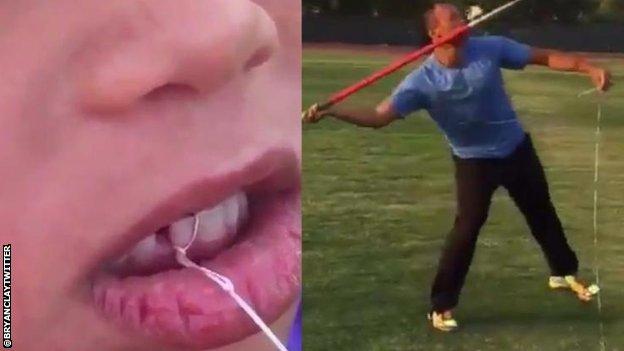 Just what does an Olympic gold medal-winning decathlete do with his spare javelins once he's retired?
Bryan Clay has a novel answer.
The 2008 Olympic champion, 35, put his to productive use by helping to remove his daughter's loose tooth.
A quick internet search on removing loose teeth suggests eating chewy food or wiggling it with your tongue.
Even quicker is attaching it to a javelin and launching it across a field. Although it helps to know how.
'She absolutely loved it'
"I didn't want to do it. I was a little bit afraid of what people were going to think, what they were going to say, or that they would misunderstand and get a little upset. But it takes everybody back to a time when they did the same silly things to get their teeth pulled out and she absolutely loved it and kept asking me 'Please, please, please Daddy' until I gave in."
Read more from Bryan Clay's interview with BBC Trending
The American posted a video of the feat on his Twitter page with the heading: "What you use javelins for once you're retired."
An Olympic javelin weighs around 800g and can reach speeds approaching 70mph on release, so we couldn't possibly put you through watching the clip in full.
The 2010 heptathlon world champion said his daughter had been "wiggling it all day until it was hanging by a thread just so she could do something cool to get it out".
He added: "Don't worry, the tooth is safely under her pillow!"
Even more importantly, his daughter looked pretty unfazed after seeing the offending tooth launched a good 30 metres across a field.