World Relays: GB 'let down' as Bolt beaten by Gatlin & Gay
Last updated on .From the section Athletics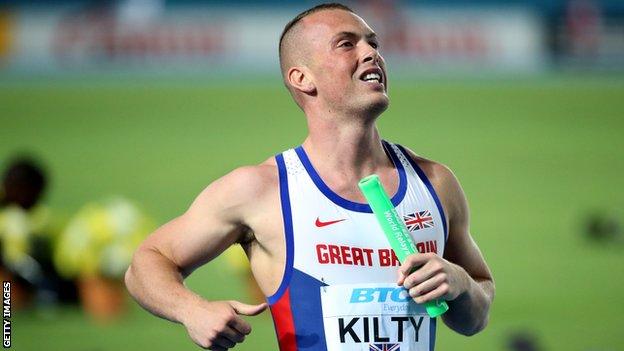 By David McDaid, BBC Olympic sports reporter in Nassau
Sprinter Richard Kilty said he felt "let down" by absent squad members as Great Britain's 4x100m team failed to qualify for the Olympics via the IAAF World Relays.
GB came ninth in the heats in Nassau, narrowly missing the A final and an early shot at Rio qualification.
Britain were edged out by just 0.06 seconds before USA took gold followed by Jamaica and Japan.
"I personally feel let down by the guys that haven't come out," Kilty said.
"We've got a massive chance of a medal in Rio next year and it's a disappointment that people aren't making themselves available to come out here and perform."
Teams who qualify for, and complete, finals at the event in Nassau will be guaranteed a place in Rio next summer.
The remaining eight teams will be selected according to the world rankings as of July 2016.
Among the runners missing from the GB squad in the Bahamas are Commonwealth 100m silver medallist Adam Gemili, fellow European 4x100m champion James Dasaolu, as well as sub-10 second runner Chijindu Ujah and Harry Aikines-Aryeetey.
The reasons given for them skipping the trip ranged from minor injuries to permitted absence due to university exams and summer outdoor plans.
The British quartet of Kilty, James Ellington, Danny Talbot and Andy Robertson went on to win their B final but the damage was already done.
"We could have challenged for the gold. We've got a lot of strong guys sitting there at home which is a terrible shame," said Kilty, the world indoor 60m champion.
"We all have our individual aspirations but the relay's a massive thing and we could have qualified for Rio automatically here.
"So why are the guys sat at home?
"We're all going to have to come together and bring out the best team possible to get the job done because that simply wasn't good enough there today."
Ellington backed up Kilty's frustrations, saying: "This is where there are going to be problems - when people expect to walk into a team when they haven't been part of it.
"So I'm a bit disappointed with them; I'm a bit disappointed with us, but we could only do what we could with the team we had today."
Elsewhere, Great Britain's men's and women's 4x400m teams made their finals.
They - and the women's 4x100m heats and final - take place on Sunday.
Bolt laments defeat by USA
Justin Gatlin said his USA team had set the tone for this year's World Championships after taking a 4x100m victory over Usain Bolt's Jamaica.
A strong USA quartet crossed the line first in 37.38 seconds - 0.3 seconds ahead of Bolt on the anchor leg.
"We just set the tone. This is the beginning of the season. We're going to get faster and stronger," Gatlin told BBC Sport.
Bolt said: "That shows that we have a lot of work to do. I'm sure at the World Championships it'll be different."
Gatlin led off for the Americans, and by the time the baton had passed through Tyson Gay and Mike Rodgers, Ryan Bailey had a sufficient lead that Bolt was unable to bridge on the anchor leg.
Jamaica were without Olympic 100m silver medallist Yohan Blake, with Nesta Carter, Nickel Ashmeade and Kemar Bailey-Cole completing their line-up in Nassau.
"I don't think any of us are in our top form and the US is definitely in better shape than us," Bolt told BBC Sport.
"We just need to get back to the shape we are used to. We have three months and at the World Championships that's where it really matters."
The final in the Bahamas was also a chance to gauge an early indication of this season's much-anticipated rivalry between Bolt and Gatlin - who was undefeated in the 100m over 2014.
"Coming out this season I think I'm the man to beat right now," said Gatlin.
"I hope I can hold that good form and take another gold medal for myself at the World Championships."
When asked if he felt he was the man to end Bolt's dominance of the 100m, the American said: "I think it's going to be a good rivalry - like Paquiao and Mayweather.
"I think that's what the track fans want to see this year and I want to help bring that."
Bolt, meanwhile, said of only his second final appearance since August - when he ended his season prematurely through injury: " I wouldn't say it was a spectacular performance but, as I said earlier, I just need to get a lot of runs in."