Boston Marathon: Ex-triathlete Derek Yorek leads race - for a mile
Last updated on .From the section Athletics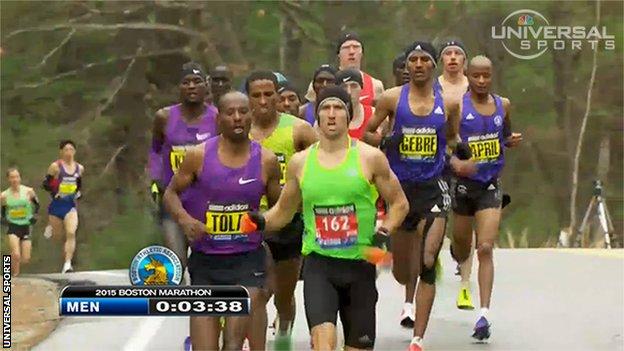 A 31-year-old former triathlete overtook the elite field to lead Monday's Boston Marathon - just so his daughters could see him on television.
Starting in the first wave behind the front-runners, Derek Yorek ran the first mile in four minutes 38 seconds, passing eventual winner Lelisa Desisa.
He faded soon after, finishing in 3:04:57, 55 minutes after Desisa.
"It was something very special that I will be able to hold on to forever," Yorek, from Texas, told Runners World.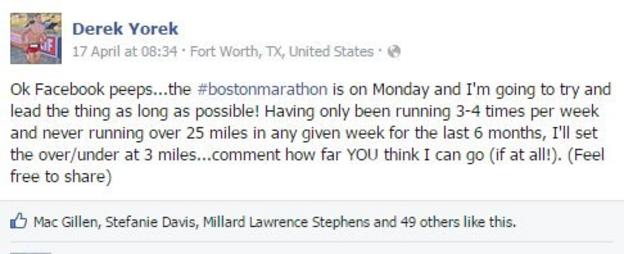 "It was the hardest race of my life but I did it to myself. I wouldn't change anything about it. It was an amazing experience."
Yorek told his Facebook followers of his plan three days before the race, admitting that he had not done more than 25 miles a week of training in the previous six months.
His estimate that he would lead for three miles proved over-optimistic, but his burst across the 20-yard gap separating him from the elite ensured that his daughters, aged five and two, saw their father from back home in Fort Worth.
Yorek's early pace divided opinion on social media with the majority of viewers enjoying the novelty, while some felt that it distracted from the real race contenders.
It is not the first time that an unknown has led in the early stages of the race.
In 2012, American Glenn Randall led for the first five miles - at times establishing a lead of about 20 metres on the elite - before eventually finishing 60th in 2:37:13.
Twitter reaction to Yorek's run