Paula Radcliffe inspired people to get off their bums - Steve Cram

By Steve Cram
BBC athletics commentator
Last updated on .From the section Athletics
Paula Radcliffe has to be one of the greatest sports people Britain has produced. Athletically, she doesn't have anyone to stand beside her in her event. She was a pioneer, and you don't often see that.
Her marathon world record of two hours 15 minutes 25 seconds, achieved in London in 2003, took everyone's breath away. Sometimes an individual comes along and does something so out of this world that everybody has to reassess what is possible.
Usain Bolt has done that in the 100m with his 9.58 world record and Bob Beamon did the same with his 8.90m leap in the long jump.
For women's marathon running, Paula is the leader. Three of the fastest times in marathon history all belong to her.
She's the one who has given everyone else something to aim at, and also something to believe in. They're still trying to catch up, and they probably will one day, but for the time being she's still top.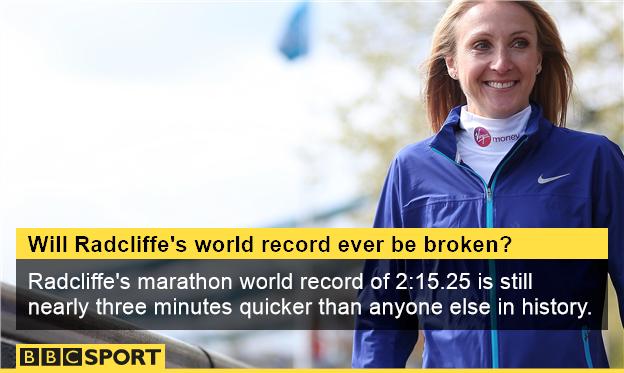 It is her story as an individual which people fell in love with because during her career she took the people with her. There were so many times she got close, gave 100% and got outkicked in the end, at the World Championships and Olympics over 5,000m and 10,000m.
Everyone was so happy for her when she found her event in the marathon.
But the marathon can be cruel because you can't run five a year. You run one or two, particularly in a year of an Olympics or World Championships, and if you get injured or have problems there's not much you can do about it.
By no fault of her own she injured her knee in the build-up to the 2004 Olympics in Athens. That was the high-profile Olympics for her and, unfortunately, she didn't finish the race, pulling out of the marathon after 23 miles.
She had a terrible period to deal with afterwards with the reaction from people in the media more than anything else.
The British public have accepted you have your downs as well as your ups and I don't think it's really affected the reverence people have for her. She will end her career happy with what she's achieved, or she should be.
Paula's tough, incredibly tough on herself more than anybody else. She has always set high standards and always believed anything is possible - and that's what makes you a champion, a great.
We've all been through that process where those same qualities, that toughness, means you'll try to push through walls you can't push through and, as a result, lots of injury problems have perhaps meant we haven't seen her in the latter part of her career running in as many championships and races as she would have liked, which is a shame.
Watch 'Paula Radcliffe: The Marathon and Me' on BBC 1 at 1pm on Saturday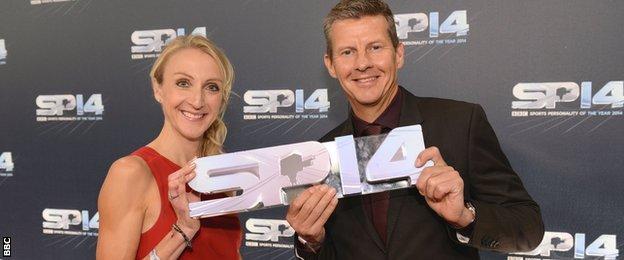 But it's great she's running the London Marathon and great she's chosen that race as an opportunity to say thank you to the British public because they've been so supportive of her.
Not that I'm retiring her here. She keeps saying she'll run more races as she enjoys running, but this weekend is about looking back and reflecting on what she managed to achieve in her career.
I hope there are plenty of people out there on Sunday cheering her. She'll probably be blinkered and not see half of them, but she's an incredible character and when you talk about role models in sport you couldn't find a better one.
When you go out on any evening in Britain people are out running, lots of women are out running, and Paula has had such an impact on inspiring people to have a go.
Paula Radcliffe is a running icon. She's enabled hundreds of thousands, maybe millions, of people to get off their backsides and go run.
Watch live coverage of the London Marathon on BBC Two and online from 08:30 BST and BBC One from 10:00 on Sunday, 26 April.