Paula Radcliffe: My journey to my final London Marathon
Last updated on .From the section Athletics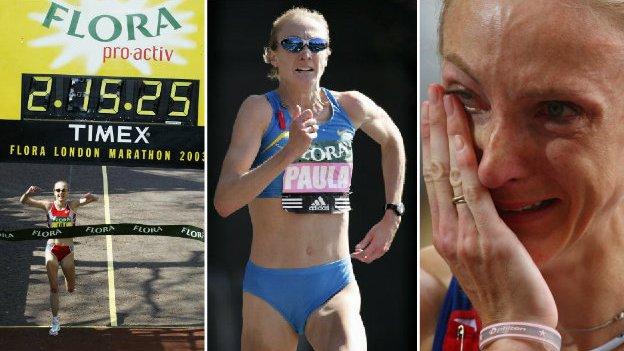 It is time to say goodbye. Paula Radcliffe will battle with her body one last time on Sunday, force it to cover a daunting distance on a course where she once took the breath away. Like all farewells, her London Marathon hurrah will be painful and emotional.
Here, the women's marathon world record holder talks about her final journey, from fearing she would never run again to finally being able to achieve the swansong she craved and needed.
April 2013 - learning to run again
One of the greatest female distance runners in history is no longer shuffling on crutches or wobbling in a surgical boot.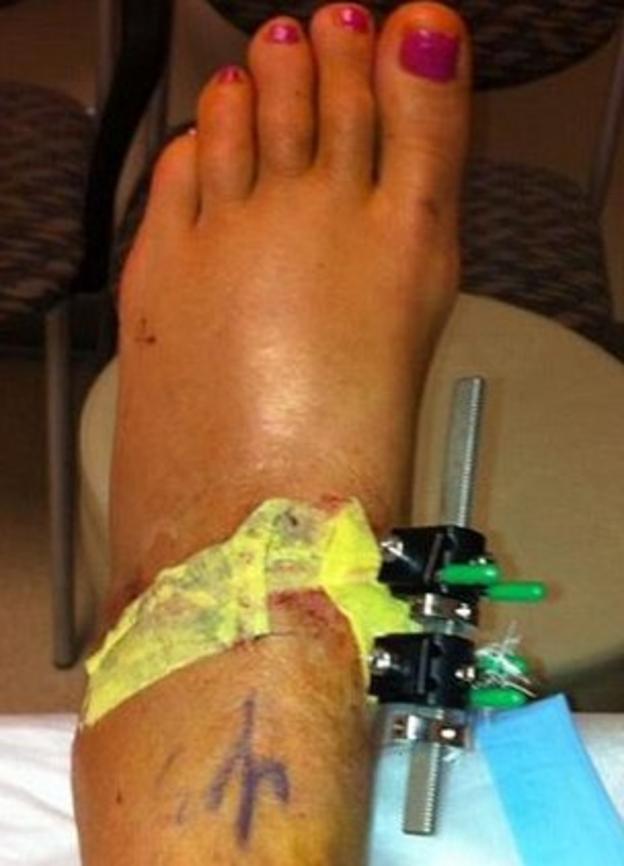 Now the miserable months spent getting around on a mobility scooter is just a memory. She doesn't have to psyche herself up to walk 200m to collect her daughter, Isla, from school anymore. Those worst of days are over but so too, she fears, is her ability to do what was once as natural to her as flying is for birds: run.
Shortly after she withdrew from the London Olympics, forced to tearfully watch the women's marathon from a hotel room, Radcliffe underwent a bone graft on an 18-year-old stress fracture.
Eight months on and the pioneer of women's marathon running can now put one foot in front of another, a minor triumph, and is ready to up the ante, increase the tempo. But only for a few minutes.
"My first run back was literally a five-minute jog and it's been a gradual process governed by how my foot was recovering," Radcliffe tells BBC Sport.
"If I walked for an hour I could do a couple of minutes jogging. It's then I started to appreciate what a gift it is just to be able to run."
The woman whose iron-willed work ethic meant she ran 140 to 150 miles a week during her pomp has been reduced to gingerly trotting in the park at an octogenarian's pace. But it doesn't matter because this is progress.
Jan 2014 - hitting the road for a 10-minute jog
Radcliffe, a woman with gravel in her guts, a runner accustomed to kicking through the pain barrier like a mule, is learning to be patient.
She is trying to appreciate teeny-weeny improvements, trying to keep perspective. But for an athlete whose average pace per mile when she broke the marathon world record in 2003 was five minutes and 13 seconds, some days - perhaps inevitably - feel like "crap".
Her left foot is still only as flexible as a lamppost, but 2014 is the year the athlete who inspired millions finally tests her aching tendons and joints on the road, a surface where she proved herself to be the finest female to have ever raced over 26.2 miles of asphalt.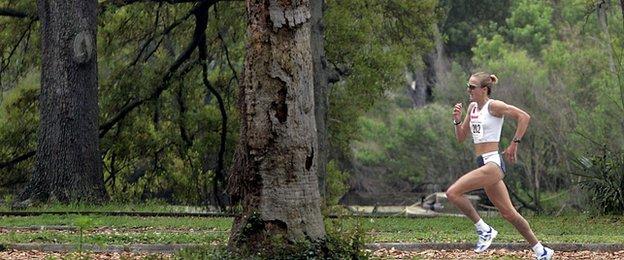 "My foot prefers to have a little change in surface, running on grass and soft surfaces, because it likes to be able to move around," Radcliffe explains.
"Because I've gone from being genuinely scared I might have to get my foot fused and never be able to run again, I've had to be patient. It's been difficult not pushing myself because I'm quite good at pushing myself."
Every night, once her two children have gone to bed, Radcliffe's husband, Gary, will massage his wife's arthritic foot for an hour or so. The foot will clunk and it will click, she says, but there's been an improvement. The former marathon world champion can now jog for 10 minutes.
July 2014, nine months left - back in public eye
A group of beer-swigging men on a barge spot a blonde female running along Birmingham's canal path near the city centre. 'Who do you think you are?' one bellows. 'Paula Radcliffe?'
Steadfastly the woman runs by the boozy boat, head bobbing up and down, and the Saturday night revellers' self-satisfied belly laughs stop. Silence. Before an expletive turns the air blue and, joyfully, they yell in unison: "Paula Radcliffe! Love it!"
To the British public, she is still the nation's most famous female runner, the one who transcended her sport, even though things are different now. Radcliffe is not the same as she was, her stubborn left foot will never allow that, but two years after her operation the Briton is training twice a day.
In September, Radcliffe will take part in the Worcester City 10k, her first race since the Austria half marathon in April 2012. (She goes on to finish the race in 35 minutes and 49 seconds.)
"I didn't think I'd be able to run in any sort of competitions," she says. "The surgeons had told me they didn't know what I'd be able to do. I'd love to run lots more races but I don't want to wreck my foot. Being able to run with the kids and share that with them is too special to risk.
"In training, I think about what I used to do so easily and it makes me appreciate more that short period I was able to get into great shape."
Jan 2015, three months to go - one last push
With the memories of a family Christmas in the "beautiful" New Forest still fresh, Radcliffe grins as she remembers the exhilaration of running on Christmas Day.
Her left foot, which still doesn't pick up properly, is cooperating enough to allow the 41-year-old to announce the 2015 London Marathon will be her grand goodbye.
She is enjoying a settled routine: walking the children to school for 8.30am and training twice a day from 9am, three times a week. But the athlete whose marathon best is still three minutes better than anyone else in history is tough on herself.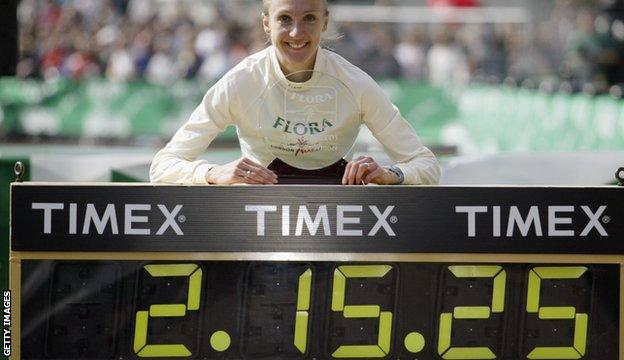 "There is a frustration," she says. "My first instinct is to look at my times and think 'that's crap' because, to me, the times I'm able to run now are not what I would call respectable.
"I said to Isla, 'this is the last time I'm going to train hard to try to do my best in a race', and she said, 'Mummy, you haven't done that for a while now'. London hopefully won't be my last marathon, but it will be my last where I put everything into training to try and do it.
"I'm never going to run a personal best again, but I'm running personal bests post-foot."
March 2015, four weeks to go - disaster, hope
As has often been the case in the build-up to crucial periods in her career, Radcliffe's body has buckled. While running on Kenya's rocky dirt tracks in February, her Achilles became the latest in the long list of body parts to surrender.
And with a month to go before she is set to run through London's streets, Radcliffe has gone from achieving her longest run for three years, about 21 miles, to zero miles a week.
Help is sought, from British Athletics and the doctors and radiologist who aided her recovery from surgery, to physicians in Monaco and orthotics specialists in Belgium. "Thanks to a combination of everything, it started to get better," says Radcliffe.
After six anxious weeks, no mileage added on the clock, Radcliffe takes her daughter to a park in the ancient village of Eze, just outside Monaco. She manages a 45-minute run. There's worry, there's doubt, but London gets the green light.
April 22 2015, three days to go - vivid memories
In the shadow of Tower Bridge, Radcliffe is walking towards a pack of photographers who are huddled in a half moon, calling her name. The cries of "Paula! Paula!" in a variety of accents suggests interest in her is not confined to these islands.
The smiling Radcliffe acquiesces to their demands, and if her wobbly Achilles and weak left foot are filling her mind with fear, she isn't showing it.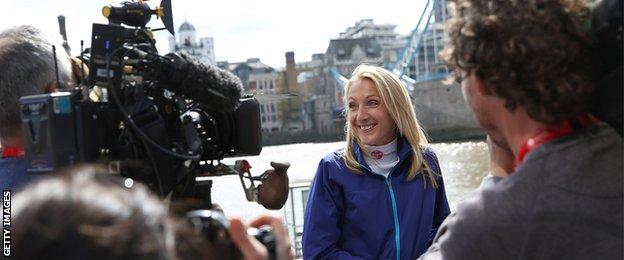 "It's definitely looking a lot better than it was even three weeks ago," she says. "I've been able to run every day since Easter weekend. I'm unfit and unprepared for a marathon but I'm hoping my body can remember once it gets out there how to do it."
She describes wanting a final chance to say farewell as greedy. She says she is determined to soak up the cheers of the thousands who will be hugging the city's streets.
As she runs the famous course for what might be the last time, hopefully turning that final corner onto The Mall for the 200m run to the finishing line, special memories will no doubt become vivid. Images will flash through her mind: her father running the course in 1985; winning for the first time in 2002; and the breathtaking world record which is likely to stand for some decades more.
"I'll just be trying to do myself justice," she says. "I want to be able to really create those memories to keep with me."
Watch as Paula Radcliffe looks back at her career in Paula Radcliffe: The Marathon and Me on BBC One at 13:00 BST on Saturday, 25 April.
Watch live coverage of the London Marathon on BBC Two and online from 08:30 BST and BBC One from 10:00 on Sunday, 26 April.