IAAF 'unfair' in denying Gothenburg bid for 2021 Worlds
By Saj Chowdhury
BBC Sport
Last updated on .From the section Athletics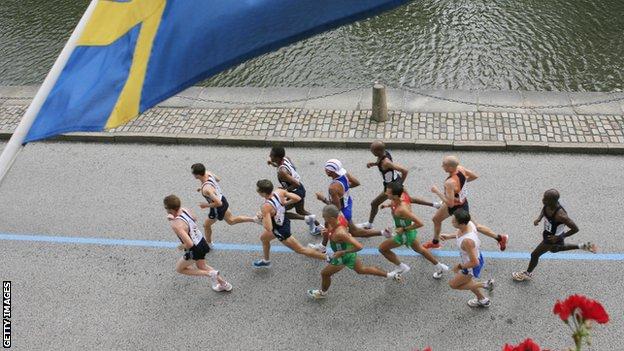 The decision to hand US city Eugene the 2021 World Athletics Championships was "unfair", according to the Swedish Athletic Association.
It claims the International Association of Athletics Federations (IAAF) was aware of its desire to host the championships in Gothenburg.
The IAAF bypassed the usual bidding procedure to name Eugene as hosts.
"This is not fair play - we were taken by surprise," said Swedish athletics' general secretary Anders Albertsson.
The IAAF has been contacted for a response to the claims.
When asked whether Swedish Athletics was aware of a change to the bidding procedures, Albertsson added: "We've stated the question on numerous occasions and been told the normal procedure would be applied in 2021."
According to Albertsson, the deadline to show official interest was April 2016, followed by a bid submitted in August before an announcement of the host in November.
The IAAF website has a section on the process for bidding for a World Athletics Championships, stating that a potential candidate should submit interest five years before the event.
"We told the IAAF of our intentions back in 2012 and then had a meeting with them when we hosted the Indoor Worlds in 2013. We wanted to host the 2021 championships so it would coincide with the the city's 400th anniversary," said Albertsson.
"We were preparing the documents for the political decisions that had to be made in Gothenburg. The federation and city put a lot of effort into the dream of hosting the championships.
"We congratulate Eugene - they will make an excellent hosts and there are no hard feelings. But we would have been happy to get to the starting line."
The 2007 World Championships, held in Osaka, Japan, were also awarded without a bidding process.