Jo Pavey: Thyroid medicine use among athletes 'unethical'
Last updated on .From the section Athletics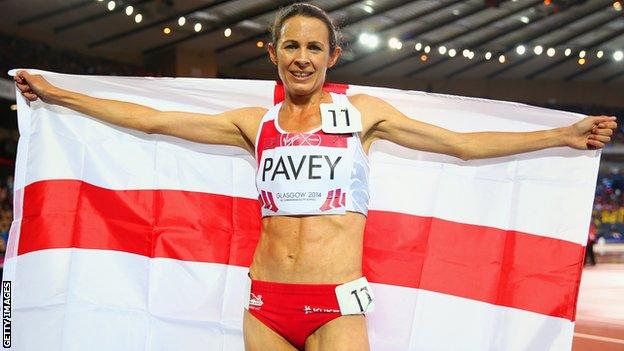 European 10,000m champion Jo Pavey says she fears some athletes are using "unethical" thyroid medication to enhance their performance.
Thyroxine is used to treat a condition which can cause tiredness and weight gain, and is not banned in the sport.
The 41-year-old last month tweeted her concerns about thyroxine and now believes some athletes were "pushing the boundaries" by taking the hormone.
The issue will be raised at the next World Anti-Doping Agency meeting.
UK Anti-Doping has already recommended to Wada that thyroxine should be banned.
"I believe it's an unethical area," Pavey told ITV.
"There are athletes who are full-out drugs cheats, there are athletes who would never take anything and there are athletes who would push the boundaries and take things that I consider unethical," she added.
In March, Pavey spoke out after hearing about "the number of athletes reportedly taking thyroid medication".
"Some might be legitimate but I find the situation worrying," she added.
The drug can increase metabolism and is claimed to be a stimulant, as well as a weight loss tool.