Athletics: Mark Dry targets Beijing Championships
Last updated on .From the section Athletics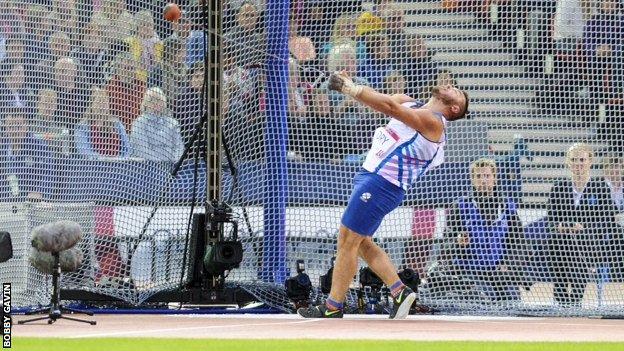 Hammer thrower Mark Dry said he knows he must breach 76m if he is to compete at the World Championships in Beijing.
The Commonwealth bronze medallist claimed a Scottish Championship best with his last competitive throw of 74.63m in August last year.
He will represent Great Britain at the European Winter Throws event in Leiria, Portugal this weekend.
"The qualifying distance for Beijing is 76m; that's big. It requires a Scottish record," said Dry.
If he fails to break that record, held by Chris Black with 75.4m, he says it won't be for lack of effort.
He said: "I have been at 74m for the past couple of years which has been frustrating, but I feel it is time to move forward and I've learned a lot.
"So, as always, I will try and give it my very best and hopefully won't be faulted for effort.
"I don't think that's something which can be pointed at me. I just hope I am now on the right path to take Chris Black's record because that would be a real honour.
"It has been a while since I've thrown competitively.
"I am looking forward to wearing the GB vest again, although for me it is not quite the same as competing for Scotland. But it still makes you feel proud.
"It has been a long winter for us hammer throwers without any indoor events so it is great to have a competition like this so early in the year.
"There is a big field of European throwers and it is good experience to face them. We will shut down a bit hereafter and prepare again for the summer season.
"Training has been really good for me. I have been pretty healthy and physically improved but there is still plenty more work to come before the season kicks in come May and we get up some speed. But I feel good at the minute."
Dry has competed at this event in the past and the 2012 European Championships with Great Britain, and confirmed he's more than happy to help out 'rookie' compatriots Chris Bennett and Rachel Hunter, who join him in Portugal.
"I am always here to help if Chris and Rachel need any kind of guidance or advice," said the 27-year-old.
"I have come out to Portugal early to train for a week before the competition to get an idea of the place and the conditions. It helps if you feel comfortable. I'm sussing it out and will speak to Chris about what the circle is like and that kind of thing.
"We are on the same team, after all, but individual results come down to yourself, obviously.
"I have no problems helping people and whoever beats me fair and square is fine. It is my responsibility to throw further and that will be tough because Chris came up with a good one the other week to get selected."