Hamza Driouch: Athlete ban probe over Mo Farah Facebook pictures
Last updated on .From the section Athletics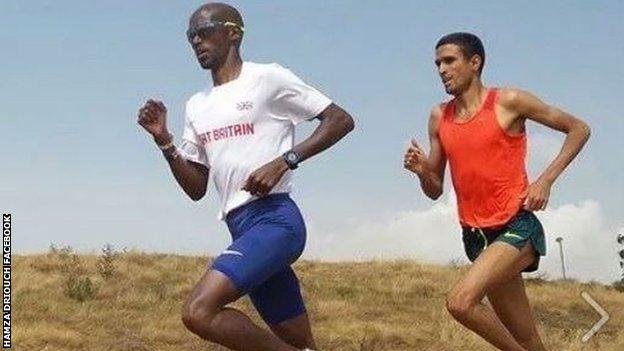 A banned athlete is being investigated by his sport's world governing body after posting pictures on Facebook of him training with Mo Farah.
Hamza Driouch, 20, was photographed running with Britain's Olympic and world 5,000m and 10,000m champion at a camp in Ethiopia earlier this year.
However, the Qatari is barred from taking part in training camps.
He was suspended from athletics until December 2016 for biological passport irregularities.
Driouch, who will be ineligible for next year's Olympics in Rio de Janeiro, competed in the 1500m at London 2012 but failed to make the final. He won the event at the World Junior Championships in 2012.
What is a biological passport?
The World Anti-Doping Agency says: "The fundamental principle of the Athlete Biological Passport is to monitor selected biological variables over time that indirectly reveal the effects of doping rather than attempting to detect the doping substance or method itself."
International Association of Athletics Federations (IAAF) spokesman Nick Davies said Farah is not part of the investigation.
Driouch's ban was only made public last month after the training camp ended.
"From a commonsense perspective, only Driouch and those closely connected to him would be aware of a sanction," Davies said.
"The problem raised here reflects directly on Driouch rather than Farah.''