Scot Lynsey Sharp pondered retirement before Glasgow 2014
By Eamonn Donohoe
BBC Scotland
Last updated on .From the section Athletics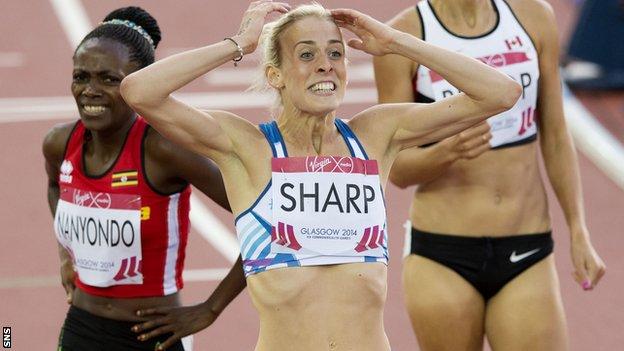 Scot Lynsey Sharp has told the BBC she considered retiring from athletics in April as she struggled to recover her form following injury.
But she said: "I started my season in America in April and I thought I was going to have to retire.
"I ran two minutes and six seconds which was six seconds slower than by personal best."
Speaking to BBC Scotland's Sport XIV programme, the 24-year-old added: "I phoned my mum in hysterics and I had a decision to make about whether to stay in America and continue racing or come home and do some lower class races, and that's exactly what I did.
"I think I did 20 800s in the season, which is quite a lot, but I knew what I needed and I was getting confidence from each race.
"I had been out the year before so I had missed the entire 2013 season through injury, so the last time I'd ran fast was 2012. It just seemed like so long had passed and was I ever going to get back to that level, because it certainly didn't feel like it when I ran the 2:06."

Sharp's preparation for the Commonwealth final was also less than ideal when she was struck down with a bug that left her with painful stomach cramps.
She spent much of the night before the race in the athletes' village clinic, attached to a drip, before being discharged at 5.30am on the morning of the race.
And the Scot paid tribute to a coach for helping her deal with that setback.
"Stephen Maguire (then Scottish Athletics' director of coaching) was my saviour," Sharp added.
"He told everyone I came into contact with not to ask how I was or if I was competing, because that would put doubt in my head.
"He never once asked me if I thought I could do it, he just talked like I was doing it. He got the nutritionist to come across and tell me what to eat so I never once thought I'm not going to do it, I didn't have that option."
BBC Scotland's Sport XIV programme, which looks back at an incredible year for Scottish sport and includes contributions from Stephen Gallacher, Eve Muirhead, David Murdoch, Dan Keatings, Kim and Lousie Renicks, is available on the BBC iPlayer.