Wilson Kipsang accuses Athletics Kenya of smearing his name
Last updated on .From the section Athletics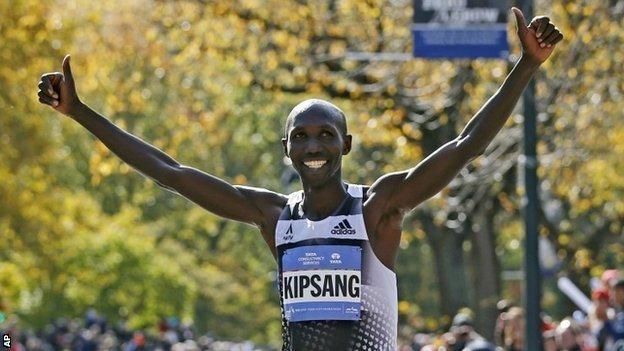 Former marathon world record holder Wilson Kipsang has accused Kenya's athletics federation of smearing his name by disclosing that he missed an out-of-competition doping test.
The IAAF told Athletics Kenya it had tried to test Kipsang on November 11.
Athletics Kenya issued a statement saying no sanction would be imposed as it was his first missed test.
Kipsang, 32, said the statement was a "breach of privacy with malicious target to soil my name and efforts".
He added he would seek legal action against the "unprofessional misconduct" of Athletics Kenya.
Wilson Kipsang's achievements
A two-time winner of the Frankfurt Marathon (2010 and 2011), he has also won the London and Berlin Marathons. He also claimed bronze in the marathon at London 2012.
The federation said Kipsang was told he would be in violation of anti-doping rules if he misses three tests within an 18-month period.
Kipsang, who said he was aware of the IAAF notification, added: "I have submitted all necessary required details and the matter was settled accordance to the governing law."
He said he was in South Africa on the day of the test, attending a global athletics conference as the Kenyan and African representative.
Kipsang added Athletics Kenya was aware of his whereabouts.
"Missing unwillingly a single test for the first time cannot amount to issuing a press statement by a national federation," he said.
"I am not the only athlete who misses a test. I am not the first one in Kenya, neither in the whole world. Then, why Kipsang?"