Athletics: IAAF cool on prospect of separate Scotland teams
Last updated on .From the section Athletics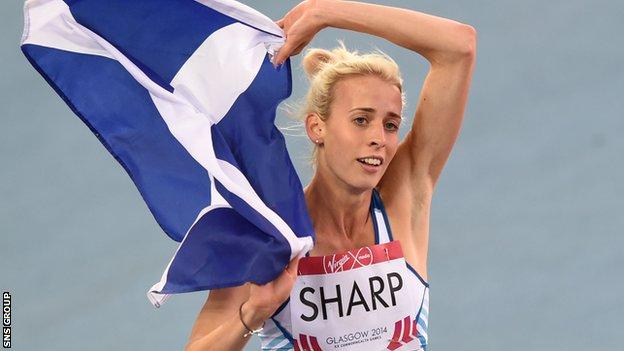 The international athletics governing body appears to have ruled out the chances of Scotland fielding a separate team at forthcoming events.
Scottish Athletics had hoped to explore the possibility of entering squads in certain competitions.
However, the IAAF told BBC Scotland: "Only one member from each country or territory may be affiliated.
"The recognised national member federation for Great Britain & Northern Ireland is UK Athletics."
Athletes compete under a Scottish banner every four years at the Commonwealth Games, as well as at a small number of home nation meetings.
And, while underlining their commitment to Team GB, Scottish Athletics put a submission to the Smith Commission on devolution calling for change.
"Some sports (rugby, football, cricket, hockey, netball for example) already have that opportunity. In athletics and many other sports, such opportunities come round once every four years - in a Commonwealth Games year," wrote chairman Ian Beattie.
"In athletics, we have seen an erosion in recent years of opportunities outside the mainstream of track and field: areas such as hill running and cross country - foundation disciplines of our sport - where Scotland used to compete at European level as Scotland.
Statement from IAAF
"The situation is very clear under the IAAF's constitution and rules.
"The International Association of Athletics Federations (IAAF) is the world governing body for the sport of Athletics, road, cross country and mountain running, and race walking.
"At the present time the IAAF has 213 affiliated national Member Federations (MF).
"Under Article 4.2 of the IAAF Constitution) - Only one Member from each Country or Territory may be affiliated to the IAAF, and such Member shall be recognised by the IAAF as the only national governing body for Athletics in such Country or Territory.
"The recognised national MF for Great Britain & Northern Ireland is UK Athletics."
"This no longer exists (we compete as GB), and with tightening budgets there are less and less places available at UK level (for Scots)."
"To be clear, we absolutely support the concept of Team GB and competing at the Olympic Games under that banner. We do, however, seek wider and increased opportunities for Scottish athletes to compete for Scotland on the world stage.
"Scottish Athletics acknowledges that the Smith Commission has no power to instruct continental or global governing bodies to include Scottish teams in their competitions, but believe that the support of an organisation with such a wide political remit can at least help the cause."