Athletics: Eilidh Child focus on World Championships medal
Last updated on .From the section Athletics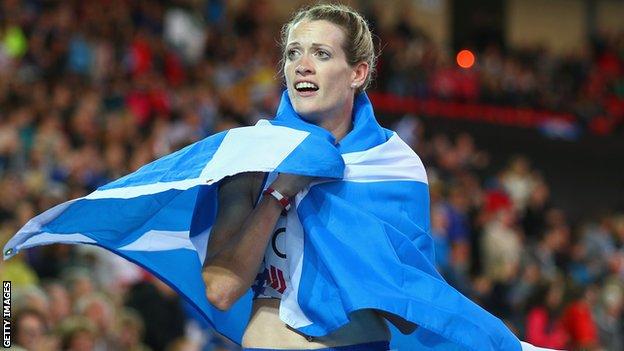 Eilidh Child is targeting a World Championships medal next year following a hugely successful 2014.
"The big focus is the World Championships in Beijing [in August]," she told BBC Scotland.
"I finished fifth in Moscow [in 2013], so I'd really like to get on that podium. I was top three in all my races this year, so I can build on that."
Child, who was Scotland's Athlete of the Year, picked up relay bronze medals at the European Championships and World Indoors as well as finishing second in the Diamond League programme.
Child has great memories of Glasgow 2014, where she finished behind Jamaica's Kaliese Spencer, and she maintained that good form to triumph in Zurich in August.
"Being able to do that lap of honour with all my friends and family was absolutely amazing and something I'll never experience again," she said.
Eilidh Child
"For me, the Commonwealths really helped out. Because I won a silver it made me really hungry to win that gold."
"That lap of honour was on a par with the Europeans because that was my first ever title. Being champion was a huge deal as well.
"It was never going to be an issue physically, doing back-to-back championships, it was the mental or emotional effect it would have on me. Would I be able to pick myself up?
"We didn't know what would happen until it happened and, thankfully, it worked out.
"The Commonwealths really helped. Because I won a silver it made me really hungry to win that gold.
"The whole year has just been amazing. The only thing that could have gone better would have been running a personal best and breaking my Scottish record again.
"That would have been the icing on the cake but that's just me being greedy."