Hawkins, Butchart, Auckland and Caldwell in Euro Cross team
Last updated on .From the section Athletics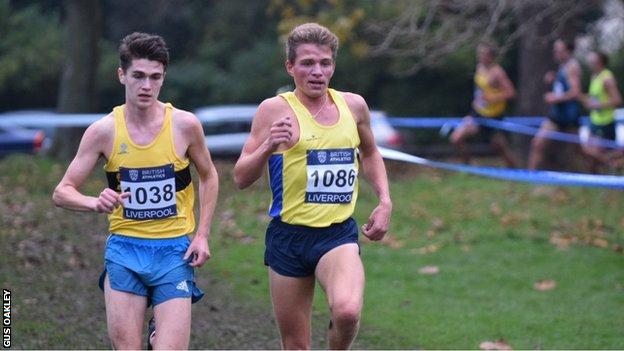 Four Scots are guaranteed slots in Team GB & NI at the Euro Cross Country Championships in Bulgaria after strong performances at the British Cross Challenge and Euro Trials in Liverpool.
Callum Hawkins, Andrew Butchart, Rhona Auckland and Luke Caldwell will head to Samokov in two weeks' time.
Steph Twell looks odds-on to join them in the senior women's selection.
And Inverclyde under-20 athlete Jonny Glen could take the Scottish contingent to six in a British team of 36.
There were three Scots in the top four of the men's race at Sefton Park as Hawkins beat Butchart in a dramatic finish and Caldwell finished fourth.
In the women's race, Auckland finished third, Twell came in seventh and Eilish McColgan was ninth in a rare cross-country outing.
Callum Hawkins on the Euro Cross Country Championships
"I'm really pleased. That's been my focus since the Commonwealth Games and hopefully I can sneak a medal in Bulgaria. I've got the engine to do it."
Kilbarchan's Hawkins edged clear of runner-up Butchart in Liverpool and will lead the British under-23 challenge in Bulgaria. Like Auckland, he could be in contention for the individual medals.
An explosive finish from Ross Millington saw the Stockport Harrier finish three seconds behind Butchart for a well-deserved third place.
Hawkins said: "I didn't have a great race in Leeds a couple of weeks ago but I'm really happy that I returned and changed the score this time around.
"I was thinking he's tiring (Butchart) so I'll get him on the corner and maybe get in his head a little bit and it seemed to work.
"I'm really pleased. That's been my focus since the Commonwealth Games and hopefully I can sneak a medal in Bulgaria. I've got the engine to do it."
Butchart tweeted later: "So happy to get the job done. The Scots do it again! Euro tickets booked."
Auckland was only just adrift of Emelia Gorecka in a race won well by Gemma Steel. She was seventh in the under-23s at the Euros last year.
"It was a good race," said the Edinburgh University athlete.
"I was just off the pack, out of trouble, but I got a bit annoyed when I realised I'd missed the break. But I picked it up again and caught people.
"The race in Bulgaria is a little bit shorter than here - 6k - but I just want to see if I can improve on the seventh place I managed last year.
"I have to be pleased I'm getting consistency of GB selection in cross country and it has been a good season so far."
Twell was fifth in the senior women's race, outside the top four guaranteed to go to Bulgaria, but is hopeful of a pick alongside Kate Avery due to come into the six-strong GB team after NCAA victory in the United States.
"I feel the Euro Cross is part of my bread and butter so I'd love to be there again," said Twell.
Glen was sixth in the men's under-20s in terms of eligible British athletes and is hopeful of being selected. It was a brave effort by the Inverclyde AC athlete as he came through from around 20th place at the halfway stage.