Paul Pollock to lead Irish men's team in Euro Championships
Last updated on .From the section Athletics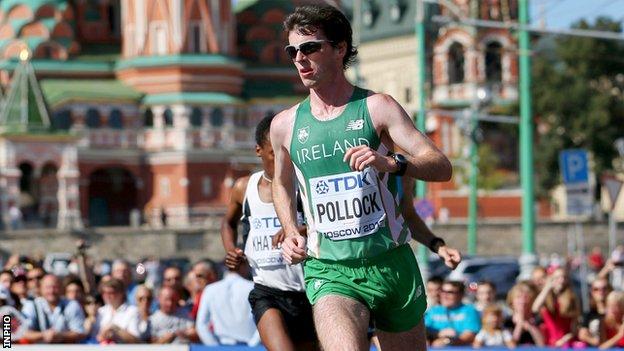 Paul Pollock will lead the Irish men's team at the European Cross Country Championships next month after his win at Sunday's Irish Inter-County event.
The Annadale Strider will be joined in the 33-strong Irish team in Bulgaria by his club-mate Ryan McDermott and Letterkenny's Ann Marie McGlynn.
McDermott will be in action in the men's U23 event after his third place in the category in Dundalk on Sunday.
McGlynn will be part of the women's squad led by Fionnuala Britton.
Wicklow woman Britton is one of only two Irish senior athletes to have won medals at European Cross Country Championships after her successive titles in 2011 and 2012 with Catherina McKiernan [1994] being the other.
Britton, who had to settle for fourth place at last year's championships in Bulgaria, produced a dominant performance to win the women's event in Dundalk.
She will be joined in Samokov by the other top six finishers in the Irish Inter-County event
Leevale's Michelle Finn was runner-up in Dundalk where Laura Crowe [An Riocht], Sara Treacy [Dunboyne AC], Siobhan O'Doherty [Borriskane AC] and McGlynn also booked their berths in Bulgaria.
Pollock will be joined in the senior men's team by other podium finishers from last Mark Hanrahan [Leevale] and Mick Clohissey [Raheny] plus Kevin Maunsell [Clonmel], Brendan O'Neill [DSD] and Kevin Batt [St Coca's].
The Irish team will face a challenging mountain course in Samokov, which has an altitude of 1350m with conditions likely to be cold.
Ireland finished sixth in both the men's and women's teams events in Belgrade last year.
Ireland team
Senior men: Paul Pollock [Annadale], Mark Hanrahan [Leevale], Mick Clohissey [Raheny], Kevin Maunsell [Clonmel], Brendan O'Neill [DSD], Kevin Batt [St Coca's]
Senior women: Fionnuala Britton [Kilcoole], Michelle Finn [Leevale], Laura Crowe [An Riocht], Sara Treacy [Dunboyne], Siobhan O'Doherty [Borriskane], Ann Marie McGlynn [Letterkenny]
U23 men: Liam Brady [Tullamore], Brandon Hargreaves [Clonliffe], Ryan McDermott [Annadale], Kevin Dooney [Raheny], Dara Chesser [Ennis]
U23 women: Mary Mulhare [Portlaoise], Maria O'Sullivan [Raheny], Rachael Smyth [St Coca's], Orna Murray [UCC/Ferrybank], Shona Heaslip [An Riocht], Ellie Hartnett [UCD]
Junior men: Kevin Mulcaire [Ennis], Con Doherty [Westport], Jack O'Leary [Mullingar], Rick Nally [DSD], David Harper [Sligo], Brendan O'Connor [An Riocht]
Junior Women: Hope Saunders [Clonliffe], Orlaith Moynihan [Clonmel], Clodagh O'Reilly [Annalee], Rhona Pierce [Leevale]