O'Hare bronze adds to medals for Scots Child and Sharp
Last updated on .From the section Athletics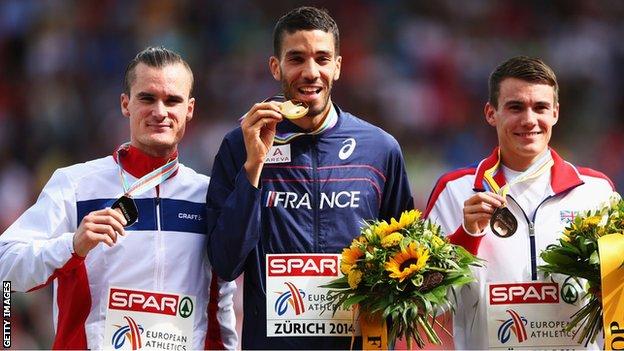 Chris O'Hare is looking forward to a break after winning bronze in the 1,500m for Great Britain at the European Athletics Championships in Zurich.
"This year has been a bit of a mess so I'm happy to come out of it with something," the 23-year-old West Linton athlete told BBC Sport.
"I'm glad it's over. I'm just looking forward to next year. It's been a two-year season and that's not much fun."
O'Hare added to medals for fellow Scots Eilidh Child and Lynsey Sharp.
Their contribution to a record-breaking European Championships for the GB and Northern Ireland team made it arguably the best European tournament, too, for Scottish athletes.
Child won gold in the 400m hurdles on Saturday and on Sunday was part of the women's 4x400m relay team that won bronze.
And Sharp beat her own personal best by 0.87 seconds and broke Susan Scott's Scottish record to win silver in the 800m, behind Belarusian Maryna Arzamasova.
Scotland's previous best at the European Championships was in 1986 when they also won four medals, but two of which were in relay events.
Back then Brian Whittle won gold in the men's 4x400m relay and Elliot Bunney bronze in the men's 4x100m, Tom McKean took silver in the 800m and Yvonne Murray won bronze in the 3,000m.
O'Hare survived a 1,500m final full of incident, with runners falling at various points of the race. His surge down the home straight earned him third place behind the winner, Mahiedine Mekhissi-Benabbad of France, and Norway's Henrik Ingebrigtsen.
Earlier at the Championships, Mekhissi-Benabbad was stripped of his 3,000m steeplechase gold for removing his vest before crossing the line.
Reflecting on the race in which he clocked 3 minutes 46.18 seconds, University of Tulsa graduate O'Hare said: "I was trying to get to the front with about 250m to go, not 550 to go.
"There was a big fall so I had to pick my heels up so I didn't get caught up in it and then I was at the front.
"I just had to take it out and I got trapped when Mekhissi took the front and he pushed it hard. I thought 'nobody is catching him'.
"I tried to get on to the inside of the Spaniard but he closed the door on me. He was tying up pretty bad so I had to jump back outside. It was a mess.
"I think I maybe could have challenged Mekhissi in the last 100m if I had been closer but he has run on a lot of emotions and it showed and he ran a really good race, so congratulations to him."
The Frenchman was booed by some spectators in the crowd as he gestured to them for support as he swept clear of the pack in the final lap.
"I think booing him is silly," said O'Hare. "He made a mistake [by removing his vest], he broke the rules, so in effect he should be disqualified.
"But he came out today and ran a superb race.
"It was a heck of a field so for him to run away from us like that; he deserves it [the gold] and he certainly doesn't deserve to be booed."
Scots Beth Potter and Laura Muir raced earlier in the week.
England's Jo Pavey grabbed the headlines with a thrilling victory in the 10,000m with London-based Glaswegian Potter having performed gamely for much of the race.
Potter, fifth in the Commonwealths at that distance and having also competed in the 5,000m at Hampden, eventually finished 14th from a field of 26 in Zurich with a time of 32:53.17.
Muir was the first of the Scots in action, last Tuesday, but the 21-year-old Dundee Hawkhill Harrier did not make it through the 1,500m heats.
She finished sixth in the first heat in 4:14.69 but that was not enough to qualify.