Zane Duquemin: GB discus champion moves training base
Last updated on .From the section Athletics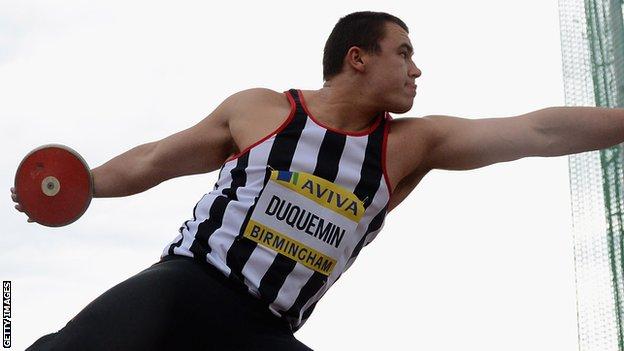 Jersey's British champion discus thrower Zane Duquemin is to move his training base to Loughborough.
"I've had a lot of discussions with a few of the performance directors at British Athletics.
"They've encouraged me to move to Loughborough at the end of the year which I think I'll do after the Commonwealth Games," he said.
"It puts me in a better performance environment, better access to facilities and better medical and hopefully that'll take me to the next level.""
Duquemin will represent Jersey for the second time at a Commonwealth Games in Glasgow this summer, having finished 10th in the discus and 12th in the shot put in Delhi four years ago.
He currently trains at Jersey's athletics track at the FB Fields in St Clement, but his routine was disrupted in February after building work was started on the throwing circle.
"I came back here (to Jersey) after my degree to try and make it work," Duquemin told BBC Radio Jersey.
"I've given it a good go for a year, but unfortunately the situation's not where it quite needs to be at the moment, so I'm going to have to go to the High Performance Institute in Loughborough.
"I would have liked to have stayed here, I'll come back as much as possible, it's not like I'm disappearing forever.
"I'm 22 years old, I've probably got another 10 years in the sport, but I need to make some decisions quickly so I don't end up wasting the early years and get to the top as quickly as possible."