Athletics: How British sprinters are breaking down 10-second barrier

By Mike Costello
BBC athletics correspondent
Last updated on .From the section Athletics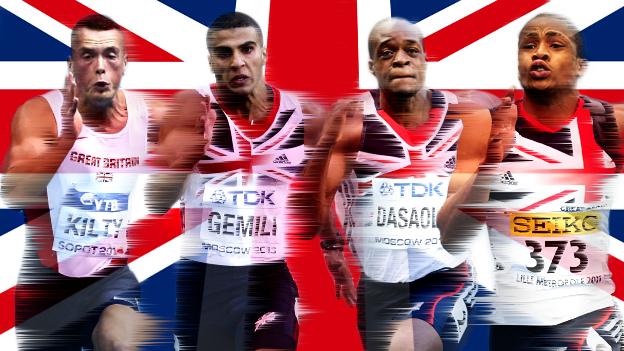 Three decades have passed since double Olympic champion Carl Lewis became the first man to break 10 seconds for the 100m at sea level. But the fascination with breaching the barrier endures.
In Britain, only five men have achieved the distinction, and the youngest - and most recent - to join the group has generated excitement around the domestic sprinting scene that could serve as a significant factor in sustaining interest in the sport as the euphoria of London 2012 wanes.
Twenty-year-old Chijindu "CJ" Ujah clocked 9.96 seconds in finishing second in a race in the Dutch town of Hengelo earlier this month, a performance which emphasised the spread of talent in this country and promised an upswing in fortunes for British sprinting.
Darren Campbell's bronze at the World Championships in Paris in 2003 was Britain's last medal in a global 100m final, and the decade since has offered little hope of a repeat.
Unlike many of his ilk, Ujah's confidence is understated. When we met at his training base at the Lee Valley Centre in north London this week, the European junior champion spoke of a long-held belief in his ability to crack 10 seconds.
He said: "Everyone makes it a barrier but me and my coach never had that. I was expecting to do it sometime soon, I didn't know it was gonna be so soon.
"To be honest, when I did it, I was shocked that more (British) people hadn't because it really didn't feel anything special to me. I just felt I was trying to win a race and when the clock came up at 9.96 I was really happy but I felt there was more for me to improve. I really think that my middle phase could've been a bit sharper.
"It was decent but I know I can still improve."
Lewis, now 52, won nine Olympic gold medals across four Games from 1984 to 1996, two of them in the 100m. A guest of honour at the recent Diamond League meeting in Oslo, he told me how much his first "sub-10" had meant to him psychologically: "When I was able to do that in 1983, it was a big deal, kind of like the four-minute mile. Then we stayed in the 9.9s for 10 years so it was a big barrier.
"It doesn't matter how fast people run, it's always going to be a barrier. It's still a big goal and for anyone to break that, it just gives them a confidence level that maybe they can run even faster."
Progression of men's 100m world record (official)

Year

Time

Athlete

Nationality

1912

10.6 secs

Donald Lippincott

USA

1936

10.2

Jesse Owens

USA

1968

9.99

Jim Hines

USA

1983

9.93

Calvin Smith

USA

1991

9.86

Carl Lewis

USA

1999

9.79

Maurice Greene

USA

2008

9.72

Asafa Powell

Jamaica

2008

9.69

Usain Bolt

Jamaica

2009

9.58

Usain Bolt

Jamaica

*Asafa Powell has run more sub-10 second races - 80 - than any athlete
Ujah has risen to number five in the world for 2014 and heads the entries for the British Championships in Birmingham this weekend. In Hengelo, he was beaten by just one-hundredth of a second by Richard Thompson of Trinidad and Tobago, who won Olympic silver behind Usain Bolt in Beijing in 2008 and currently leads the global rankings.
Two years ago, Adam Gemili beat an "under-developed" Ujah to win the world junior title in Barcelona - and he believes his rival's performance was a breakthrough waiting to happen. "A lot of people were very shocked with CJ running 9.96," Gemili, now 20, told BBC Sport.
"But I've had conversations with him and I knew for a fact he was going to do it. Maybe I wasn't expecting it in June but I think it's terrific for British sprinting. He's such a good guy and it makes everyone else have to raise the bar, especially with James Dasaolu running 9.91 last year. It can only be a positive thing, it makes the trials and making a team a lot more competitive."
Ujah's coach Jonas Tawiah-Dodoo, at 28, is also making an impact. There is a freshness and zest about their work together that is infectious and which is clearly rubbing off on a high-quality training group that includes the Olympic long jump champion Greg Rutherford.
"Our national championships need to be at a high level," says Tawiah-Dodoo. "The Americans say that if you win at their champs, you're gonna win a medal at the majors. That's how it needs to be here as well."
World indoor champion Richard Kilty's gold medal run in Poland in March caused as much of a shock as Ujah's landmark effort in the Netherlands.
"At the moment," Kilty admits, "I'm just getting used to all the travelling and the life and carrying the title of being a world champion. It was a bit of a culture shock at the start. I need to feed off that and use it as confidence and carry it on into the outdoor season.
"We've got a lot of talent in this country and I think with Ujah breaking through a few other guys can also break 10 seconds. There's a big buzz going around and hopefully it can rub off on a couple more athletes."
Just as the heavyweight division is important to boxing, so the 100m is the glamour event in athletics, the discipline which does more than any other to ferry the appeal of the sport beyond the die-hards. Ujah and his burgeoning generation have a chance to build a special platform for their often-blighted specialism, starting this weekend in Birmingham.
"For British sprinting, it's a good place to be," he says, "and for me to be British champion, to follow the likes of Linford Christie, Jason Gardener, Marlon Devonish and Dwain Chambers, to be in the history books with them would be a wonderful thing.
"If conditions are good, it could be the fastest championships race anyone has ever seen."