Northern Ireland athletes in Irish European Team squad
Last updated on .From the section Athletics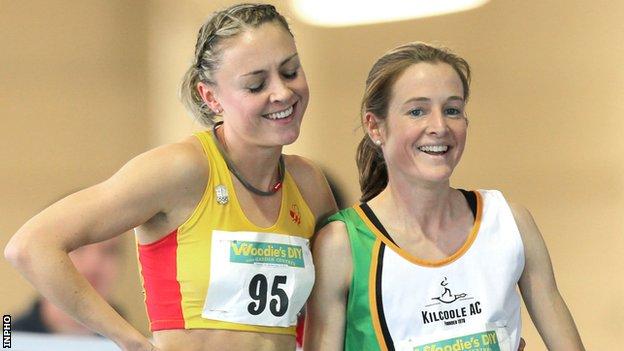 Five of Northern Ireland's Commonwealth Games representatives have been named in the Irish squad for this weekend's European Team Championship meeting.
Ben Reynolds, Amy Foster, Kerry O'Flaherty, Christine McMahon and Dempsey McGuigan will all compete for a 45-strong Irish team in Estonia.
The team also has other Ulster field event athletes Adam McMullen and Matthew Martin.
The strong Irish selection includes in-form duo Thomas Barr and Mark English.
400m hurdler Barr moved to number one in the 2014 European rankings as he improved his Irish record to 48.90 in Switzerland over the weekend.
English, meanwhile, was running Olympic champion and world record holder David Rudisha close as he took an impressive second at the Diamond League meeting in New York.
With Paul Robinson named in the Irish squad following his 3:54.77 mile in Oslo last weekend and Fionnuala Britton also travelling, the Irish will have ambitions of improving on their seventh place in last year's First League meeting in Dublin.
The Irish team will face Estonia, Belarus, Greece, Norway, Romania, Portugal, Finland, Belgium, Hungary, Slovenia and Lithuania during the two-day competition, with the top three finishing teams earning a promotion to next year's Super League.
Promotion will almost certainly be beyond the Irish but given the presence of so many in-form and classy athletes in the squad, they should avoid any relegation worries and a top-five finish may not be out of the question.
400m runner Brian Gregan, hurdlers Reynolds and Sarah Lavin and 800m hopeful Rose-Anne Galligan will also be expected to challenge strongly for high finishes.
With Jason Smyth not at his best thus far this season because of injury, Steven Colvert will run both sprints and at his best, is capable of contending - especially in the 200m.
The meeting will also offer City of Lisburn athlete Foster a chance to improve on her Irish record equalling 100m of 11.40 set last month although the sprint competitions are likely to be of strong quality in Tallinn.
Ireland team
Men
100m/200m S Colvert; 400m B Gregan; 800m M English; 1500m P Robinson; 3000m D McCarthy; 5000m K Batt; 3000m chase T Cotter; 110H B Reynolds; 400H T Barr; High Jump D Cussen; Pole Vault I Rogers; Long Jump A McMullen; Triple Jump D Finnegan; Shot Putt S Breathnach; Discus M Pons; Hammer D McGuigan; Javelin M Martin; 4x100m D Hynes, C Lynch, S Colvert, K Pike, M Lawler; 4x400m B Gregan, R Morrissey, B Murphy, T Barr
Women
100m A Foster; 200m K Proper; 400m S Denny; 800m R Galligan; 1500m L Crowe; 3000m AM McGlynn; 5000m F Britton; 3000m chase K O'Flaherty; 100H S Lavin; 400H C McMahon; High Jump C Farrell; Pole Vault T Pena; Long Jump K Proper; Triple Jump C King; Shot Putt C Fitzgerald; Discus C Fitzgerald; Hammer A Hickey; Javelin A Fitzgibbon; 4x100m S Lavin, L Kiernan, N Whelan, P Healy, C McManus; 4x400m J Barr, C McMahon, S Denny, C McCallion