London Marathon 2014: Mo Farah doubted by rivals after collapse
Last updated on .From the section Athletics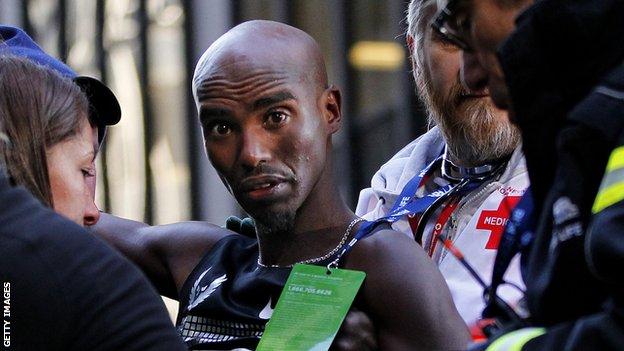 Mo Farah's decision to run Sunday's London Marathon less than a month after collapsing at the end of a race has been questioned by three of his rivals.
Kenya's Geoffrey Mutai, who beat Farah to win in New York, said: "To handle sickness is not easy - perhaps I would relax and prepare for another time."
Olympic champion Stephen Kiprotich and London Marathon record holder Emmanuel Mutai also raised doubts over Farah.
Farah, the Olympic and world champion at both 5,000m and 10,000m, will make his full marathon debut in the 26.2-mile race on Sunday, having run the first half of last year's event.
The 31-year-old, who will face four of the 10 fastest marathon runners in history, said he wanted to break Steve Jones's British record of two hours, seven minutes and 13 seconds, set in 1985.
But Uganda's Kiprotich, the Olympic and world marathon champion, suggested the Briton should continue to concentrate on shorter distances.
He said: "I don't see why he's running the marathon. He's still good on the track, still running a mile in under three minutes 50 seconds.
"Maybe the problem is that the fans are the ones pushing him."
Emmanuel Mutai argued that Farah was giving himself too big a task by making his full marathon debut in such a high-profile race.
The Kenyan, winner of the 2011 London Marathon, said: "Sometimes it's good to start with a small race - not so fast or with such a strong field.
"You win then and then you have an idea of how the marathon is when you come to a big race like this.
"If he doesn't perform here, that might affect him psychologically - and whatever he has achieved on that day will not be good because maybe he was expecting a lot, and that can be demoralising."
In addition in Kiprotich and the two unrelated Mutais, Sunday's field will include last year's London Marathon winner Tsegaye Kebede and Kenyan world record holder Wilson Kipsang. Ethiopian legend Haile Gebrselassie is set to pace the field to 30km (18 miles) at world-record schedule.
The current world record is two hours, three minutes and 23 seconds.