Five Scots named in GB & NI team for Great Edinburgh XCountry
Last updated on .From the section Athletics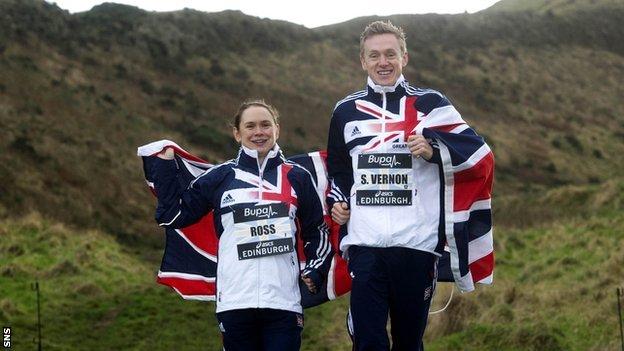 Andrew Butchart will win his first British vest when he races in the Bupa Great Edinburgh XCountry 25th anniversary race on 11 January.
The Central AC runner joins four other Scots in Team GB and Northern Ireland - Callum Hawkins, Steph Twell, Rhona Auckland and Olympian Freya Ross.
Butchart, 22, is thrilled at his first GB call-up at any age-group level.
"I've never represented GB up until now so to go straight in at Senior is exciting," he said.
The 36-strong GB & NI team will hope to win the title while the USA will also send a strong team.
The senior men's and women's teams each have 12 athletes, with the first six athletes across the line to count for the team, with a further six athletes making up the Under-20 men's and women's teams.
Butchart, a lifeguard and physical trainer at Gleneagles, just missed out on the Under-23 team for the European Cross Country Championships in Belgrade last Sunday.
Hawkins, whose brother Derek will represent Scotland in the marathon at the Commonwealth Games in Glasgow next summer, has been rewarded for his seventh place and team gold medal in Belgrade with a place in Edinburgh.
Twell and Auckland also won team gold at the European tournament.
"I was on stand-by as 'first reserve' for the Under-23s for the Euro Cross after running well in the trial at Liverpool and ended up sitting by the phone for a week and hoping there might be a call-off," said Butchart.
"It never happened and it was frustrating so to get word now that I will wear a GB vest in Edinburgh is terrific news and, really, it just tops off a good 2013 for me."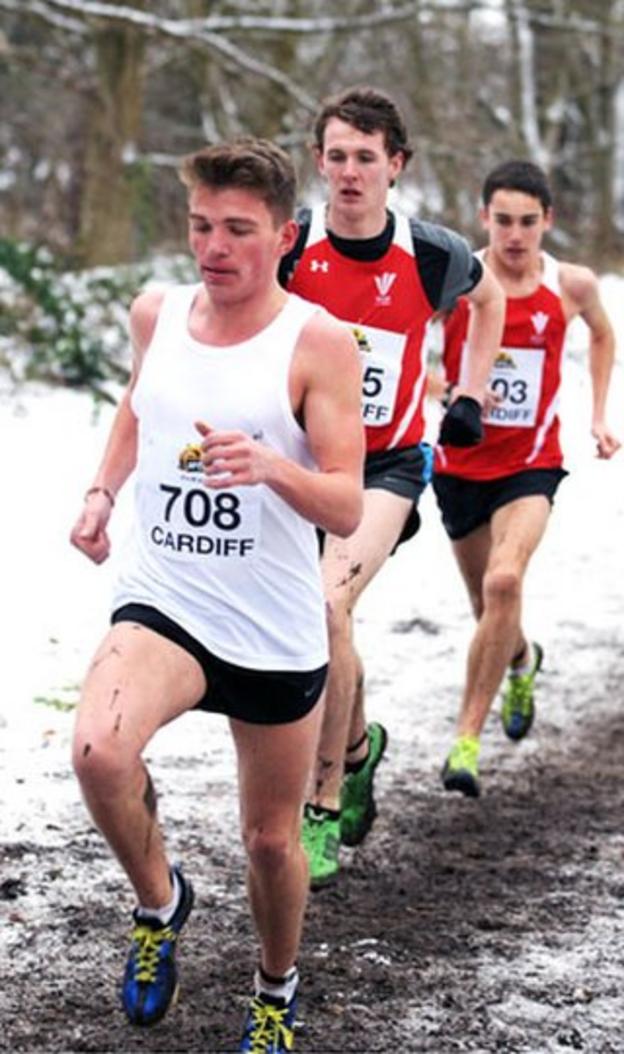 Butchart revealed that a year ago he reassessed his training regime and decided he could push himself further and he soon reaped the benefits.
He continued: "I was lucky in January when there was a call-off for the Celtic Games in Wales for the Under-23 team and I was called in for that one. I ran well in Cardiff and that day in the snow kick-started things for me and changed my attitude.
"It led to a much better track season and hopefully now I'm carrying that on into cross country. I am certainly training harder now than I did in 2012.
"We've a strong team ethic at Central AC. The guys all get on well together and training is both friendly and competitive. We push each other on.
"It is great for Scotland to have five athletes picked. Callum Hawkins and Rhona Auckland did extremely well in Belgrade in the Euro Cross (Edinburgh University student Auckland finished seventh in the women's Under-23 race) and that kind of thing does act as a spur and an inspiration for other athletes.
"You start to think, 'maybe I could do what they are doing'."
"I've run in the Inter-District race in Edinburgh on many occasions and it is always a good fixture with the TV cameras there and usually a bit of a crowd.
"Now I will go there with a 12-strong GB team and one of your first goals is to try and beat a few of your team-mates and prove you can compete at that level."
Full Britain and Northern Ireland squad (coach name in brackets)
Senior Men
Andrew Butchart (Derek Easton)
Luke Caldwell (Robert Russell)
Keith Gerrard (Art Acevedo)
Jack Goodwin (Simon Goodwin)
Dewi Griffiths (Kevin Evans)
Jonathan Hay (Mick Woods)
Callum Hawkins (Robert Hawkins)
Adam Hickey (Eamonn Martin)
Charlie Hulson (Paul Roden)
John McDonnell (John Stoker)
Andy Vernon (Nic Bideau)
Steve Vernon (Dave Turnbull)
Senior Women
Jessica Andrews (Mick Woods)
Rhona Auckland (Joyce Hogg)
Julia Bleasdale (self-coached)
Katie Brough (Andrew Carter)
Lauren Deadman (Bill Foster)
Emelia Gorecka (Mick Woods)
Lauren Howarth (Pete Riley)
Lily Partridge (Mick Woods)
Charlotte Purdue (Mick Woods)
Freya Ross (Steve Jones)
Gemma Steel (John Nuttall)
Steph Twell (Mick Woods)
Under 20 Men
Jack Crabtree (Norman Poole)
Jamaine Coleman (Andy Bibby)
Alex George (Paul de-Camps)
Scott Halsted (Jeff Seddon)
Zak Miller (Paul Shaw)
Matthew Shirling (Adrian Webb)
Under 20 Women
Alex Clay (Peter Mullervy)
Bobby Clay (Mullervy)
Jessica Gibbon (Rob McKim)
Amy Griffiths (Mick Woods)
Harriet Knowles-Jones (Russell Tart)
Lydia Turner (Thomas Millmore)