Athletics free from doping is an unrealistic idea - Michael Johnson
Last updated on .From the section Athletics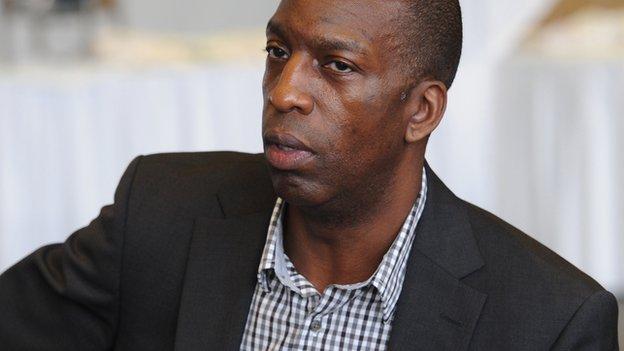 Four-time Olympic champion Michael Johnson believes it is "unrealistic" to think athletics will ever be drug-free.
"Athletics is a microcosm of real life," said American Johnson.
"In real life you will always have people who cheat. It's unrealistic to expect athletics to be drug-free."
Johnson, who won 4x400m gold at the 1992 Barcelona Games, the 200m and 400m double in Atlanta four years later, and the 400m title in Sydney in 2000, believes the Olympics is the saving grace of athletics but thinks the sport needs to adapt in order to improve its appeal.
"Other sports may have fans that can put up with [doping] but in athletics the fans want to see the Olympians hold true to the Olympic ideal and values," he said.
"To be honest, if it weren't for the Olympics, athletics would be dead. Off the face of the earth."
He added: "Everyone loves to see people have a race but we're seeing too much emphasis placed on world records and not on the battle between the athletes.
"We must look closely at the sport and see what it is that people actually want to watch.
"Do we need the women's discus? A 3000m steeplechase and 5000m at the same meeting? Nothing has happened to change the sport in my time.
"We need to look at a new format, package it better to engage more fans. Other sports have done it to increase their fan base, why can't athletics?"